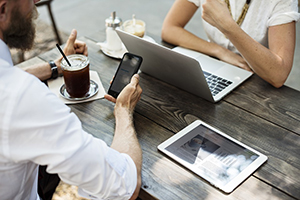 Professional development is probably mandatory for employees in your company because these opportunities benefit you and your employer. Understand the different types of professional development and why this requirement is important.
Continuing Education
Take a continuing education class, workshop or webinar to improve your skills. Your employer may offer these in-person or online opportunities during the workday, or you may complete them at your convenience at home. Ask about tuition reimbursement for qualified college courses or certification classes, too.
Mentoring

A powerful but often ignored professional development opportunity, mentoring allows you to learn from others who are further along in their career path. You can participate in non-directive and directive mentoring opportunities. Non-directive mentoring pairs you with someone from a different department or career, and directive mentoring pairs you with someone from the same department or career. Both types of mentoring introduce you to invaluable information that helps you become a better employee and person.
Presentations
Collaborate with team members or work alone to create a presentation for your department or company. You may wish to create a presentation about new research in your field, ways to streamline processes or other interesting and relevant topics. Not only will you learn more about your chosen presentation topic, but you'll also gain experience talking in front of people and then leading a discussion about the information you shared.
Professional Organization Participation
Join a local, regional, national, or international professional organization. You can access print and online resources and attend meetings, workshops and conferences. With this professional development option, you boost your knowledge and meet new people who support your career advancement.
Publishing
Common for people in research jobs, publishing is also important in other career fields. You can work together with colleagues to write articles and other content for print or online resources. Share unique insights and relevant information as you enhance your knowledge and boost your resume.
Shadowing
Quick and easy, shadowing allows you to follow someone in a higher position for anywhere from a day to a month. You'll learn more about the other person's job, education and responsibilities. While this professional development option is not as immersive or comprehensive as mentoring, it helps you understand other positions and gain an appreciation for other employees in your company.
Volunteer
While volunteering is a good way to share your resources and give back, it also enriches you professionally. Use your existing skills and develop new ones as you hone your communication, problem-solving and collaboration abilities.
Professional development helps you advance your career and supports your company's success. Consider these different types of professional development as you build your resume and abilities this year.