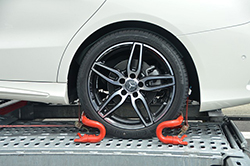 Car dealers, manufacturers, auctions and private collectors rely on commercial car haulers. Whether you own a car carrier or a car hauling business, discover details about the car hauler insurance coverage you need.

What Does a Car Hauler Do?
A commercial car hauler can transport vehicles a few miles across town or thousands of miles across the country. The hauler can work for a:
Dealership
Manufacturer
Auto wholesaler
Towing company
Repossession company
Auto repair shop
Private owner
Custom car dealer
Moving company
Risks of Car Hauling
When cars are towed by a commercial hauler, they are secured on the car carrier. The driver is typically responsible for any damage to the car or carrier. Expect to cover damage if a car is stolen during loading or unloading, damaged when you drive under a low bridge or vandalized while in your care.
Other risks include accidents while you're on or off the road, liability if you cause property damage or other accident and theft or vandalism to your car carrier or vehicles you haul.
What Types of Car Hauler Insurance Coverage Do You Need?
The right car hauler insurance policy covers your car hauler, vehicles you haul, drivers and other equipment. You'll also need specialized coverage.
Liability with bodily injury and property damage that covers injuries and damages your car carrier causes
Medical Payments
Underinsured or Uninsured Motorist
Comprehensive, Collision and Specified Peril
Cargo coverage for the vehicles you transport or store
On Hook for vehicles you tow
Garage and Operations if you store vehicles
Unattended Truck Coverage
Accessories coverage for a GPS, navigation systems and communication radio
How Much Car Hauler Insurance Should You Buy?
Small haulers that hold three or fewer vehicles need at least $100,000 in insurance coverage while transporters that haul eight to 10 vehicles typically need a minimum of $250,000. You'll also need to cover your business in case you're sued. Your insurance agent can help you purchase adequate coverage for your needs.
How Much Does Car Hauler Coverage Cost?
Car hauler insurance can cost from $800 to $1400 per month. It's more expensive than regular auto insurance because it's a commercial business that handles multiple vehicles that could each be valued at $20,000 or more.
Factors that affect your insurance costs include:
The size, type and number of car carriers you operate
The number and type of vehicles you haul regularly
The location of your business and where you operate your car carrier
Your state requirements
The coverage demands of your clients
To purchase the car hauler insurance you need, talk to your insurance agent. Discuss your specific needs and budget as you find the right coverage for your business.