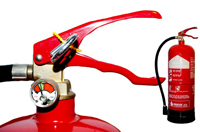 Every small business needs to be equipped with functioning fire extinguishers. Local and city codes and your insurance company mandate specific requirements, and here a few of the guidelines you'll need to know as you practice fire extinguish safety.
Ensure Extinguisher Accessibility
During a fire, you don't want to have to search for the fire extinguisher behind a pile of boxes or in a closet. Mount it somewhere that's easily accessible but does not hinder anyone from exiting the building. Also, if the fire extinguisher weighs less than 40 pounds, mount it on a permanent structure that's three to five feet off the floor.
Use the Correct Size and Type
The fire load of your business determines how many fire extinguishers you need and what size they are. As an example, a retail space with less than 3,000 square feet of space may need only one 5-pound extinguisher, but if candles or pool chemicals are sold in that space, two extinguishers located at opposite ends of the building may be required.
Test Extinguishers Regularly
Like most things in your office, fire extinguishers do wear out even if they're not used. Follow this testing schedule to ensure your extinguishers are ready to go when you need them.
Six years after your dry chemical fire extinguisher is manufactured, it must undergo routine maintenance. The handle, stem, internal parts and chemicals are removed and the cylinder is pressure tested and inspected for wear, tear, damage and defects. The extinguisher is then reassembled, charged and tested to ensure it doesn't leak. A new inspection tag is attached if the extinguisher passes all these tests.
Twelve years after the manufacturer's date, perform a hydrostatic test on your extinguisher. It receives a hydrostatic test sticker or stamp if it is serviceable.
You'll also want to perform monthly checks on your extinguisher. Be sure the extinguisher hasn't been tampered with, vandalized or damaged and check for missing parts and improper pressure. The supervisor or designated employee who does these monthly checks should initial the inspection tag to verify that the extinguisher is ready for use.
Provide Proof of Inspection
The fire extinguishers in your business much be inspected annually by a licensed technician. During the inspection, the technician will verify that the extinguisher is undamaged and not discharged, is the correct pressure, has a debris-free hose and is properly mounted. Each extinguisher that passes inspection receives a tag that's punched with the inspection month and year.
The fire extinguishers in your building could save lives. Follow these safety tips to ensure your extinguishers are ready for action. You can also ask your insurance agent or building inspector for additional safety tips.