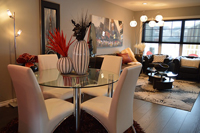 You wouldn't let your kids ride in the car without a seat belt or play with a bottle of cleaning chemicals. Yet you may not have considered the danger your kids are in because of your home's furniture. It only takes a second for an accident to happen, so protect your kids from furniture tip-overs.
Mount TVs Properly
Every 45 minutes, a child visits the emergency room and every three weeks one child dies because of TV tip-overs. Instead of placing your TV on a cabinet or other piece of furniture with no security, always use anti-tip devices. If you watch a box-style TV, secure it to a low piece of furniture that can handle the weight, is stable and can't tip over. Mount your flat-panel TV on the wall according to the manufacturer's directions.
Secure Furniture
Bookcases, china cabinets and even your refrigerator could be unstable and top-heavy. They can topple over if your child tries to climb them or pulls hard on the doors. Use anti-tip devices, brackets, wall straps or braces to secure these pieces of furniture to the wall and floor.
Stop Drawers
Furniture drawers are designed to slide easily which compromises the stability of the dresser or cabinet and increase its likelihood of toppling over. Install stops that prevent drawers from being pulled out all the way.
Rearrange the Furniture
When you place heavy furniture in the playroom, you increase the likelihood that your kids will want to explore it and possibly be hurt. Instead, locate heavy furniture to a low-traffic room.
Remove Tempting Objects
Where you place household items can increase safety. Place heavy items on bottom shelves or drawers to reduce its chances of tipping over. Don't put food, toys or other kid-friendly items on the top shelves, either, since your kids may reach for or climb up to those items and be hurt.
Remove all Unused Furniture
It's tempting to let that old dresser or old TV you no longer need or use to sit around until you need them. Those items pose potential threats to your kids, though, so recycle unused furniture as soon as possible.
Look at Your Home Through a Child's Eyes
To you, the dresser in your child's bedroom is useful for sorting clothes. Your child or one of their friends may see it as a jungle gym or the perfect spot for hide and seek, though. Take time to walk through your house and look at everything as if you were a child, and remove any furniture that's potential dangerous.
Furniture safety can prevent fatal furniture tip-overs. Follow these tips and discuss additional ways you can protect your kids when you meet with your home insurance agent.