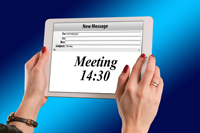 In a world of Twitter, Facebook and texting, email has taken a back seat. However, it's still an important communication tool for working relationships. Understand the basics of how to write a professional email as you stay connected at work.

Use a Proper Salutation
From the beginning of your email, establish that you are a person who understands courtesy and manners. To do that, address emails with the recipient's name. An example salutation is "Dear Ms. or Mr. Last Name."
Request Rather Than Demand
It's easy to use email to demand things from others. Consider requesting rather than demanding, though, as you keep your professional relationship and collaborative reputation intact. Instead of writing, "Place the report on my desk by five", write, "Please give me the report this afternoon."

Watch Your Tone
Written words are easy to misinterpret since you can't hear someone's voice or see their facial expressions. While you can't always predict when someone will misinterpret your email, you can read it before you hit send. Cut curse words and inflammatory language, and if the tone could be construed as sarcastic, rude, bossy or anything less than professional and courteous, rewrite it.
Proofread
Spelling, grammar and punctuation don't always matter in personal communications, but they are essential for professional emails. Use complete sentences and proofread your emails carefully before you send them. If you're not skilled in this area, spend time learning the rules or ask a co-worker to help you edit.

Maintain Privacy
In your rush to make a sale or handle an issue, you may include sensitive information in the email or cc information that should remain private. Be sure to respect the recipient by not sharing his or her email address without permission or including an outsider in a private conversation.
Follow Up in a Timely Manner
An email overload may cause you to delay responding. Quick replies can improve your reputation, though, and symbolize that you value your teammates and customers. Set time aside each day to read and reply immediately to email. If you need more time to find an answer, let the person know and then be sure to follow up.
Remember That Email is Forever
Before you hit send on any email, remember that it is permanent. You can delete it, but the recipient may not. Take a minute before sending an email and only send it if you're okay with it going public.
Remember your manners when you write email, and invest in your career and reputation.