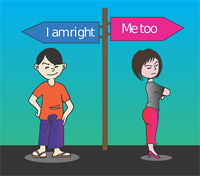 Work can be miserable when you and your boss don't get along. Disagreements can be minor and easily resolved, ongoing personality differences or long-term disagreements that are not resolved. Here are a few tips you can try when you and your boss disagree.
Remain Professional
Despite your differences, always remain professional toward your boss, co-workers and job. Continue to do your best work, and don't badmouth your boss to anyone.
Perform Self-Reflection
It's tempting to blame your boss entirely for disagreements, but look at yourself first.
Pinpoint how you feel when you interact with your boss and what happens to make you feel upset.
Honestly assess your strengths and weaknesses. In some cases, you may be responsible for some of the conflict because you procrastinate or don't delegate enough.
Ask for feedback.  Your co-workers, teammates and boss can tell you when you're slacking or being bossy or if it's an issue like work style that causes conflict.
Use that data from your self reflection to find patterns of behavior or ongoing issues and to make a plan to address and resolve the issues in your control.
Meet With Your Boss
After you assess your behavior and responsibility, meet with your boss. Ask your boss where you fit in with the team and what personal issues cause problems. Remain humble, not confrontational, too, as you seek to understand and resolve any issues. If you can't find a resolution, take a break to re-assess and schedule another meeting.
Meet With HR
Despite your best efforts, you may find that you and your boss are still unable to get along. That's when you can schedule a meeting with Human Resources. Share the facts about the disagreement and what you've done to address the issue then brainstorm solutions.
Manage Your Stress
Work challenges can create incredible stress in your work and home life. Take time to manage the stress in positive ways. Look for things to be thankful for at work, exercise, meditate, sleep and eat a balanced diet as you protect your mental health and physical well-being.
Walk Away
In the worst case scenario, you and your boss may be unable to come to a resolution, and you may need to walk away for your mental health. Apply for a transfer to a different department or take another job with a different company. If you switch jobs, consider asking someone other than your boss to be a reference for you, and don't badmouth your boss during job interviews.