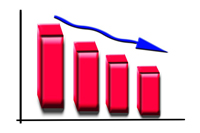 When you only hear about fraud and rising insurance rates, then it can be easy to assume that those are the trends that are here to stay. We encourage you to remember that there is change happening out there though for certain states. Concerned residents in Florida have already started a new task force, and people around the country are fighting their own battles for what they feel is best for their employees and their customers. We'll show you what's happening in Illinois and West Virginia today, so you can see workers comp is functioning in other areas of the US.
West Virginia
After seeing a reduction in workers compensation for the past 11 years, West Virginia continues their streak for another round of cutting costs in 2016 at almost 15%. This time around, employers in the state can expect to save about $36 million, which has made business owners a little happier and wondering what to do with the extra cash. While it's not been reported as to why exactly West Virginia has had such a good run regarding their workers compensation premiums, it is clear that the reduction gives businesses a sense of stability which can help relationships and growth flourish. The new change will take place the first day of November this year.
Illinois
Illinois is not quite doing as well as West Virginia but their claims will fall by 12% this year, which is still a significant drop. While they still pay more than neighboring states, it's important to note that they do have one of the biggest cities in the country which is a clear indicator of why they would have higher rates. This fall is a good step in the right direction, but it may be for some disappointing reasons. Some of the jobs that used to be causes for injuries, like construction or manufacturing, have seen a decline in demand in the state. People claim that the high rates and special interest groups have stunted contract and projects moving forward due to the liability and cost concerns. As this year goes by, Illinois will be able to see if the reduction was the boost it needed to kickstart growth again or if it is still under too much strain by the debilitating cost of premiums.
No matter how you feel about either state, this is a good lesson that there can be change on the horizon for you. Illinois in particular will be getting an on-the-job lesson this year, so to speak. When insurance companies have the reason to do so though, they absolutely can work with state officials and businesses to start lowering the cost of workers compensation.