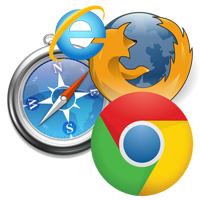 Do you have a favorite browser? If so, it's probably because the browser is familiar to you and easy to use. Unfortunately, if your browser is out-of-date, your company is at risk since outdated browsers can include bugs, security flaws and other challenges. Consider updating your browser and improving security for your small business.
Close Security Holes
Manufacturers usually prioritize security holes and release updates that patch those challenges first. If you're using an older browser, though, your computer could be vulnerable to malware, password theft and viruses, and your browser remains vulnerable to cyber criminals who look for easy targets. As an example, Microsoft does not support versions older than Internet Explorer 11.
Check with your browser's manufacturer to see if security hole updates are available. If not, consider switching to a different browser.
Give Customers a More Consistent Browsing Experience
Modern customers use their smartphones to research your products, prices and reviews. If you use an older browser to design your website, it might look good to you but may not be compatible with the latest digital formats your customers are using.
Update your browser to ensure your website works properly for all users. Not only does an update create a consistent browsing experience for your customers, but it also potentially increases sales.
Improve the Internet
Every year, new web browsing features, tools and extensions are released by browser companies. Use an old browser, and you can't take advantage of the new features. One example is a keychain tool that stores login information and secures your passwords. An old browser may also include bugs and other issues.
Upgrade to enjoy use-friendly improvements and a better internet experience. The updated browser also improves security for your small business.
Update Options
If you decide to update your browser, take one of three steps.
Update to the same generation. For example, if you have Firefox 46, upgrade to 46.0.1. This update is safe and reliable and includes a low learning curve since you're already familiar with the browser.
Update to a newer generation. Go from Firefox 46 to 47 for a safe and reliable upgrade. The website pages on websites will look better and be easier to use, too.
Update to another browser. Switch from Firefox to Internet Explorer for a completely different experience. Even though you'll spend a few hours familiarizing yourself to the new browser and its features and nuances, you also receive multiple benefits.
Your small business can maintain security and stay relevant when you upgrade your browser. After you take this step, be sure to check regularly for updates. Discuss additional security measures with your insurance agent as you minimize your risks and protect your business.