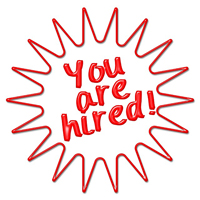 Does your business have a busy season? It might if your industry is retail, landscaping or catering, and that means you may need temporary workers. Here are several tips on how to add those workers quickly to your staff during your busy seasons.
Prepare and Plan
Unless this is your first year in business, you know when your busy seasons fall during the year. Take time during the slow times to prepare for the busy hiring season.
Decide how many employees you need.
Outline job duties and write detailed job descriptions.
Write your help-wanted ad and identify in-print and online job boards.
Clear time in your calendar to conduct interviews.
Set up a training program.
Hire a Temp Agency
Screening employees requires a big chunk of your time and valuable resources. Consider hiring a temp agency.
The temp agency is experienced in finding, screening and hiring employees. In fact, they probably already have a list of potential employees for your business. With their help, you can focus on doing your job instead of on finding and hiring temp workers.
Start a Referral Program
You already have a team of great employees. Why not reward them for referring the people they know, like and trust. Chances are high that your team will only refer quality candidates since their reputations are on the line.
When starting your referral program, determine the reward. It can be cash, a day off when business slows down or other high value prize. Then determine how many referral prizes each employee can earn. Finally, follow through and award the referral prizes as you promised.
Recruit on Local Colleges
Local college campuses are filled with students who need extra cash. They also typically have flexible schedules, so recruit your next temp workers there.
Contact the administration office or student employment office and share your job openings. You can also participate in job fairs or get permission to post job ads on school bulletin boards.
Offer Retention Bonuses
You invest quite a bit of time and resources in finding and trailing temporary workers. A retention bonus encourages them to remain on your staff after the busy season.
The bonus can be as large or small as you can afford. Also, consider giving a bonus to any temp employees who are available as needed throughout the year to fill random large orders or cover staffing gaps as needed.
These tips can help you quickly fill seasonal employment voids. Use them to ensure that your business can fill orders and meet customer demands as you keep your business moving forward.