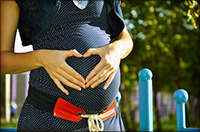 Congratulations on your pregnancy! In the midst of the doctor appointments and baby shopping, consider making three insurance moves. They're important as you protect yourself, your baby and your family.
Reevaluate Your Health Insurance Benefits

Your current health insurance may cover your pregnancy and childbirth. According to the Affordable Care Act, qualified health plans must include maternity care and childbirth on all qualified health plans.

There are certain exclusions. They include:

Policies in existence before March 23, 2010 often exclude pregnancy or childbirth care.
If you are under 26 years of age and covered under your parent's health insurance policy, you may not have maternity care.
Your health insurance that's provided by a self-insured employer may not cover your pregnancy or childbirth needs.
Buy or Boost Your Life Insurance Coverage

Whether you plan to work or stay home after your baby's born, you need life insurance. It replaces lost wages and allows your family to afford childcare and other daily living expenses. The money can even cover your child's future college expenses.

To ensure you have enough life insurance coverage, take these steps.

Use a life insurance calculator to determine how much life insurance you need to buy. Ideally, it should replace eight to 10 times your annual salary.
Shop around for an affordable term, whole or universal life insurance policy.
If you already have a policy through your employer or a private insurer, purchase a second, supplementary policy for even more protection and peace of mind.
For the best rates, buy a life insurance policy during your first trimester. Certain medical conditions, including high blood pressure or gestational diabetes, may affect your ability to buy affordable coverage during your second or third trimesters.
Review Your Home and Auto Insurance

A new family member may mean you need to move to a larger home or buy a bigger car. Review your home and auto insurance policies to ensure you have adequate coverage.

Notify your insurance agent of any changes, including home improvements you may make.
Calculate the value of all the new baby gear you buy and any valuable heirlooms you or your child may inherit. Include these items in your homeowner's inventory and coverage.
Get quotes on all the vehicles you're considering buying as you make sure you can afford the auto insurance.
Compare quotes from several companies to be sure you get the best deal.
Your family is growing, and that means you need to do your insurance homework. Discuss your needs with your insurance agent to ensure you have the right coverage.