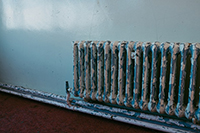 Cooler temperatures have arrived, and it's time to turn on your heater. Be safe and protect your family and home with these home heater safety tips
Use Only Approved Heating Sources

Certain heating sources should never be used to keep your family and home warm. They include the stove or candles. Your risk of carbon monoxide poisoning or fire increases when you use a non-approved heating source.

Install Heaters Properly
It's easy to buy a stationary space heater, fireplace or wood stove. Those heating sources should be professionally installed, though, to ensure they conform to the manufacturer's instructions and local codes. Invest the necessary time and money to ensure your family and home stay safe and warm.
Use the Right Fuel
Different types of heaters, whether they're fireplaces, space heaters or pellet stoves, use different fuels. Be sure you're using the right fuel for your heater. Find the details in the heater's instruction manual or on the manufacturer's website.

Inspect and Clean Your Heater Annually
While it's easy to flip a switch or light a match and start your heater in the fall, you want to make sure it's operational. Hire a qualified professional to inspect and clean your chimney and heating equipment before you turn it on. They can make sure your heater is safe to operate all season.
Turn Off the Heater
You may think that leaving the heater turned on is a good idea as you keep your home warm. However, fires can start and rapidly spread if you leave your fireplace or space heater unattended. Always extinguish fireplaces properly and turn off space heaters before you leave the house or go to bed.

Keep Your Distance
Your furnace, fireplace, space heater or other home heater keeps you and your family warm, but they're also fire hazards. Anything flammable should be kept at least three feet away from your heater. Flammable object can include curtains, clothing, upholstery and wood.
Enforce a Kid-Free Zone
Kids sometimes start playing and forget to follow safety rules. Implement and enforce a three-foot kid-free zone around the fireplace or space heater. It protects your kids from getting burned.

Use Smoke and Carbon Monoxide Detectors
Despite your safety precautions, heaters can malfunction. Buy and install smoke and carbon monoxide detectors in your home. Test the detectors every month and replace the batteries every six months, too.
Update Your Home Insurance
As you prepare your heater for another season, make sure your home insurance is up-to-date. It can ensure your home and possessions are covered if there's a heater accident.
The cooler temperatures outside mean you're ready to turn on your home heater. Follow these tips as you stay safe.