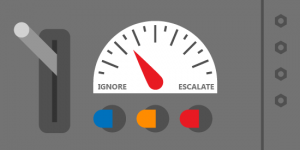 Technology has advanced the speed and scale at which consumers can communicate about their brand interactions. As a result, businesses have had to determine how to respond to customers on a personal level in what is now a very public, digital space.
If a person had a poor customer experience at a restaurant a few years ago, they may have warned friends not to eat there or written down their complaints on a comment card. Today many people feel comfortable venting their frustrations to an exponentially larger, public audience: the entire Internet. Many companies are still struggling to identify which grievances necessitate a personal reply, which ones can be left alone, and which complaints require escalation and/or a security response.
We reached out to our Microsoft privacy experts again this week to ask how companies should approach online customer feedback, especially where privacy and security are concerned. In an interview with Microsoft for Work, Marisa Rogers, Global Sales and Marketing Privacy Manager, and Kristi Berry, Senior Privacy Manager weighed in on the issue.
Berry: This is a huge question. Things have changed a lot because of evolving industry trends and evolving attitudes towards technology and social media. In general, people are much more comfortable with these types of data collection and comfortable with this social, digital world. They are more aware and paying much more attention to what's going on. For us that makes it more and more important to provide the right levels of controls for the customer to manage their privacy.
Rogers: There were recent news reports of a man who was boarding a Southwest flight and tweeted about his bad customer service experience with the gate agent real-time. He included the agent's first name and the gate location where he boarded his plane. It caused him to be removed from the plane and to be interviewed by security officials before he was allowed to go on the flight. Certainly in the public space, people are increasingly using social media to comment both positively and negatively on customer service.
Now, in this particular case, [there was] heightened sensitivity because it had to do with a situation in an airport where someone was complaining about a bad experience. Companies will need to carefully consider how they respond to make sure the response is proportionate to the complaint. There are many examples of companies responding to feedback on social media that are both good and bad.
Rogers: In the first place, you have to be prepared to receive the complaints. You should have a plan of action on how you want to address questions or comments that are neutral-to-negative to your business. This may include having some standard answers ready to go and thinking about how to diffuse difficult situations through social media. Remember you can take it offline if it's more appropriate to address the person's specific issue.