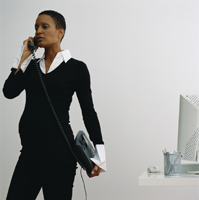 Although many women work through their pregnancies without difficulty, some of them with physically demanding jobs or complicated pregnancies might seek accommodation at some point. However, the Americans with Disabilities Act (ADA) does not define pregnancy as a disability or disorder, but as a natural process related to reproduction.
If pregnancy is not a disability, are pregnant women entitled to accommodation? What about women with pregnancy-related impairments? Are they covered by the ADA Does the Pregnancy Discrimination Act (PDA) entitle pregnant women to the accommodations they need to continue working during pregnancy? Are there state laws that entitle pregnant women to accommodation? These are the types of questions are being examined by the National Women's Law Center (NWLC) and other women's legal organizations. According to NWLC, both the ADA and the PDA often require reasonable accommodation for pregnancy.
Let's start with the ADA. The regulations interpreting the ADA Amendments Act (ADAAA) state that pregnancy-related impairments can meet the definition of disability if they substantially limit a major life activity. Pregnant employees with impairments that meet the definition of disability will be entitled to an accommodation under the ADA. Because the ADAAA has broadened the definition of disability to include many temporary and less severe impairments, more workers with pregnancy-related impairments will now qualify for direct coverage.
In addition, the interaction between the PDA and the ADA will often result in a heightened duty to accommodate even pregnant employees who do not meet the ADA's definition of disability. NWLC argues that the PDA requires employers to treat pregnant women at least as well as other employees with similar limitations in their ability to work. Because the ADA requires employers to accommodate a wider variety of medical conditions, pregnant women will often have similar limitations to people who are entitled to accommodations under the act – which means that they'll be entitled to accommodations as well. For example, the Equal Employment Opportunity Commission (EEOC) has made it clear that the ADA requires reasonable accommodation of a temporary back injury that leaves an employee unable to lift 20 pounds for a few months. Because pregnant workers must be treated as well as employees with similar work limitations, a worker who has been instructed not to lift weights of more than 20 pounds because of her pregnancy must also be accommodated, according to NWLC.
To ensure that employers' legal obligations to provide accommodations are unmistakable, the NWLC and a broad coalition of groups from the health, disability, and women's rights communities are urging Congress to pass the Pregnant Workers Fairness Act (PWFA) – draft legislation which states that pregnant women are entitled to reasonable accommodations that can be provided without undue hardship to an employer. These are the same types of accommodations that are available to people with disabilities under the ADA. In addition, some state laws already give pregnant workers' rights to workplace accommodations, as described in a recent report by Equal Rights Advocates.
Accommodating pregnant employees is also in the financial interest of employers. The NWLC provides several sound business reasons why employers should accommodate their pregnant employees in the same way that they do for workers with disabilities. Data show that the costs of these accommodations are likely to be minimal, and that providing them will have bottom- line benefits to the employer: including reduced workforce turnover, increased employee satisfaction and productivity, and lower Workers Compensation and other insurance costs.
Despite the legal and financial arguments, some employers are still not accommodating pregnant employees. This is why the EEOC recently identified "accommodating pregnancy-related limitations under the ADAAA and the PDA" as a priority area for its enforcement efforts through 2016.