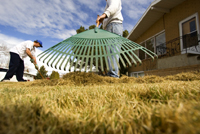 A lack of maintenance or poor quality maintenance causes thousands of on-the-job accidents every year. What's more, maintenance workers face significant risks associated with their jobs.
According to the most recent Bureau of Labor Statistics job fatality report, deaths due to poor maintenance rose 14%, year to year, in 2011, the highest level since 2006. Accidents from maintenance have a variety of causes: everything from falls caused by working heights, confined spaces or harsh environments associated with accessing equipment, and shocks and burns if power is not properly isolated, to injuries from moving machine parts, musculoskeletal problems caused by working in awkward spaces and exposure to asbestos and dangerous chemicals.
There are three types of maintenance:
Routine or preventive maintenance keeps equipment working – such as a scheduled overhaul or replacement.
Corrective maintenance gets broken equipment up and running again.
Predictive maintenance uses tests for maintenance that is or will soon be needed.
To make your maintenance activities safer and more productive, follow these guidelines:
Emphasize planning and scheduling on every maintenance task.
Invest in affordable technology such as a thermographic camera (around $1,000) to detect variations of temperature that can reveal when a machine motor is not running properly.
Make sure that supervisors convey the right message consistently. Employees need to be told that accidents happen as a result of short cuts, such as failing to lock out a piece of equipment before performing maintenance.
Teach workers to intervene. If an employee walks by a piece of equipment that's making an unusual noise and doesn't tell their supervisor, it's the same as ignoring a co-worker who is working unsafely.
Get employees engaged and accountable. This can lead to culture change which makes safety the responsibility of everyone – not just of the safety and maintenance department.
For more information on maintaining your safety maintenance program, just get in touch with us.