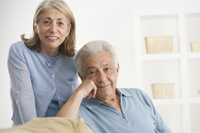 Short-Term Care Insurance (STCI) can help pay for your medical care in an assisted-living facility or nursing home for a relatively short period (90 to 360 days) during recovery, convalescence, or recuperation when you can't take care of yourself – unlike Long-Term Care Insurance (LTCI), which provides coverage for two years to a lifetime.
Compared to LTC coverage, Short-Term Care policies are:
Up to 70% less costly – because of the shorter benefit period.
Easier to obtain – with only a limited list of medical exclusions.
Far more likely to be used; one study found that 90% of nursing home stays last less than a year.
Much quicker to go into effect; the STCI "elimination period" – the time from diagnosis until coverage begins – is usually 0 to 30 days, compared to the standard LTCI period of 90 days (According to one study, only one in four nursing home residents remain this long).
The STCI eligibility "triggers" are usually the same as those for Long-Term Care. The policy pays for care when you can't perform at least two of six "activities of daily living" without help – eating, bathing, transferring in and out of a chair or bed, dressing, toileting and continence – or suffers from a cognitive impairment.
Choosing STCI makes sense if you: 1) have around $20,000 to $60,000 in assets and need reimbursement for the cost of care during a relatively short recovery; or 2) can't meet the medical qualifications for LTCI or have waited so long to apply that you can no longer afford the premiums.
As insurance professionals, we'd be happy to help tailor a Short-Term Care policy that provides the protection you need at a price you can afford. Just give us a call.