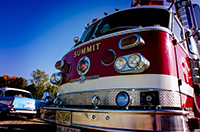 Commercial auto insurance is essential for many businesses, including fire and rescue companies. Like passenger vehicles, your fire and rescue vehicles are subject to accidents, theft, vandalism and other circumstances. Protect your property with commercial auto insurance.
Why Purchase Commercial Auto Insurance
Because fire and rescue vehicles play an important role in protecting the community, they must be properly insured. Like individual auto insurance, commercial auto policies provide liability and other coverage for vehicles and their driver and passengers. However, these policies often include higher limits and must meet special laws and circumstances that apply to commercial vehicles.
Which Vehicles are Covered
Commercial auto insurance can cover a variety of fire and rescue vehicles before, during and after an emergency. It also covers employees and volunteers who drive, ride in or use the vehicles and equipment and other special circumstances, depending on the policy.
The vehicles covered include:
Fire trucks
Water tankers
Ambulances
Rescue squad vehicles
Non-emergency medical transportation trucks
Medical provider courtesy vehicles
Fire chief vehicles
Traffic coordinator vehicles
How Much Coverage do you Need
Every fire and rescue company will need different coverage. The number and type of vehicles, average number of calls each month, amount of equipment on each vehicle and number of employees are factors that affect the amount of coverage you purchase.
Additionally, consider state insurance requirements. The required limits may vary depending on where you live, but in most cases, you'll need these coverage types:
Bodily injury – Pays medical expenses for victims when you cause the accident.
Property damage – Covers any property repairs your vehicle damaged.
Personal injury protection – Covers medical expenses, wage loss and other expenses incurred if the driver or passengers are injured.
Uninsured/Underinsured motorist – Pays expenses if the vehicle is involved in an accident where a driver does not have auto insurance or adequate insurance to cover damages.
Comprehensive – Covers vehicle repairs due to non-accidental circumstances such as fire, theft, vandalism, missile objects, animal collisions or natural disasters.
Collision – Pays to repair damages to your vehicle after an accident.
Roadside assistance – If the vehicle breaks down, blows a tire or otherwise is stranded, this coverage gets your vehicle back on the road.
Personal effects – With this coverage, employees' personal belongings are covered if they're stolen from the vehicle.
How to Purchase Commercial Auto Insurance
Purchase commercial auto insurance coverage from a licensed insurance agent. Contact several companies for a quote, and compare their policy price and coverage options, customer feedback and financial standing. Discuss optional coverage, too, to ensure all your needs are met.
Commercial auto insurance for fire and rescue companies is essential. Understand this coverage as you protect your equipment.