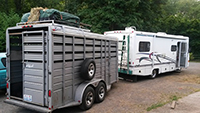 In a recreational vehicle, you and your family can explore the United States, enjoy a vacation or retire in style. Since your RV is both a home and an auto, you'll need recreational vehicle insurance. It protects your investment and assets and gives you peace of mind.
Why Buy Recreational Vehicle Insurance
Whether you drive a large motorhome or pull a pop-up, your recreational vehicle is an investment you want to protect. Insurance won't prevent an accident, but it will cover repairs if your RV is damaged.
You also want to be insured if you're in an accident or cause property damage as you navigate your RV. Insurance reduces your liability and can protect your assets.
For your protection, consider these coverage options.
Bodily injury
Property damage
Medical payments
Collision damage
Towing and labor costs
Vehicle rental costs
Personal possession coverage
Benefits of Recreational Vehicle Insurance Coverage
While some homeowners and auto insurance policies cover RVs, consider a policy that's specific to your recreational vehicle. Specialized coverage is designed for RV owners like you and offers numerous options.
RV Claims Experts
– Talk to an RV expert when you file a claim.
Full Replacement Cost Coverage
– Replace your RV if it's stolen or totaled.
Coverage for Personal Belongings
– Cover your RV's contents, including appliances and personal belongings.
Emergency Expenses Allowance
– Pay for lodging, food and travel you may need after you file a claim.
Service Call Allowance
– Pay an RV repair expert to visit your location and diagnose your RV repair needs.
Hitch Coverage
– Replace your entire hitch assembly, including the attachment to your truck or tow vehicle.
Coverage for Permanent Attachments
– Replace awnings, antennas and other permanent RV attachments.
Storage Option
– Pay a lower insurance premium when your RV is in storage.
Full-Time Coverage
– Enjoy coverage similar to a homeowners insurance policy and pay any RV association charges if you live in your RV.
Talk to your insurance agent about these and other coverage options as you purchase a customized policy that meets your unique needs.
Recreational Vehicle Insurance Costs
The cost of your RV insurance depends on the type of RV you own, how frequently you use it, where you drive and where you store it. You may also qualify for discounts if you bundle other insurance coverage, join an RV club or take a defensive driving course. Your insurance agent can discuss your specific needs and prepare a customized policy that meets your needs and budget.
When you're ready to buy recreational vehicle insurance, find an agency that specializes in RV coverage. They understand your specific needs and will provide the right policy for your needs.