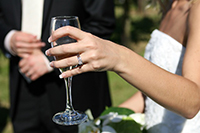 If your Super Bowl Sunday plans include throwing a party, you'd better be sure you have adequate insurance in the event of an injury claim by one of your guests. This advice stems from a new study sponsored by Trusted Choice, the independent agent's branding campaign launched by the Alexandria, Virginia-based Independent Insurance Agents & Brokers of America.
The study was conducted by TRC, an independent research company in Fort Washington, Pennsylvania. The researchers polled 1,009 adults in a telephone survey about their plans for a social gathering. Their research revealed that of 28.5 million Americans who plan to have parties in their home, 21 million do not have a Personal Umbrella insurance policy, making them vulnerable to lawsuits, which could result in financial ruin. The remaining seven million didn't know what coverage they currently carried.
The importance of proper coverage cannot be underestimated because in 30 states, hosts can be held legally responsible for guests who drink, drive and cause an accident. Interestingly enough, 53% of those surveyed said the host should be held responsible; however, most of those who responded in this manner have not taken any steps to protect themselves.
The researchers concluded that people don't buy Umbrella policies because they think enough coverage is offered by their Homeowner and Auto policies. Nothing could be further from the truth. Large jury awards coupled with substantial health care costs make it commonplace for lawsuits to exceed the liability limits on the average Homeowner/Auto policy.
The researchers made the following recommendations:
Discuss your insurance coverage with one of our agents before hosting a party to familiarize yourself with your state's host liability laws, and to make sure you are insured properly.
Limit invited guests to people you know.
Host the party at a restaurant or bar that has a liquor license, rather than in a home or office.
Be sure that you provide filling food for guests and alternative nonalcoholic beverages.
Schedule entertainment or activities that draw partygoers away from drinking.
Arrange transportation or overnight accommodations for those who should not drive.
Stop serving alcohol at least one hour before the party is scheduled to end.
Do not serve guests who are visibly intoxicated.
Consider hiring an off-duty police officer to monitor guests' sobriety discreetly or handle any alcohol-related problems as guests leave.