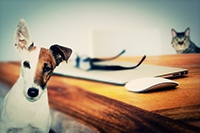 Your four-legged friend is part of your family, and when your pet gets sick, it needs medical care. Veterinary services can be expensive, though. Pet insurance helps you afford the treatments your pet needs.
How Does Pet Insurance Work?
Every pet insurance policy is a little different, but in general you may visit any licensed veterinarian you want, including your preferred vet, emergency vets and specialists.
You'll pay any bills for treatment at the time of service. Then, you may invoice the insurance company. The reimbursement procedure depends on the policy. Your policy may include a schedule of benefits that assigns a specific value to each procedure, or it may pay you a percentage of each invoice. Check your policy for reimbursement details.
What Does Pet Insurance Cover?
Read your pet insurance policy for details on what it covers. Usually, you can pay for several different types of pet care, including:
Accidents – broken bones, bite wounds, toxic exposure, swallowed object
Illnesses – stomach issues, ear infections, cancer
Hereditary and congenital conditions
Behavioral and alternative therapies
End of life treatment and care
Preventative care – wellness visits, vaccines, dental cleanings, health screenings, tests
Keep in mind that most pet insurance policies will not cover everyday expenses such as grooming or boarding costs. They may not cover pre-existing conditions, either.
Also, your pet insurance policy cannot be cancelled unless you stop paying premiums. Purchase a policy before your pet turns 10, and the coverage should be in effect for the rest of your pet's life.
Where Can You Buy Pet Insurance?
Numerous insurance companies sell pet insurance. The policy options normally include:
Whole pet care – covers everything from wellness visits to prescription medication to surgery and hospitalization
Major medical – covers common medical costs including those related to accidents, illnesses and certain hereditary conditions
Wellness – covers your pet's annual essentials such as wellness exams, vaccinations and flea and heartworm prevention
Compare several options and talk to your insurance agent about your needs as you choose the best policy option for your pet and family.

What Does Pet Insurance Cost?
Pet insurance policy premiums depend on several factors. The type of insurance you choose, where you live and even your pet's age and breed affect pet insurance costs. Compare all your options and discuss details with your insurance agent as you ensure you have the right pet insurance for your furry friend and budget.
Pet insurance helps you provide your pet with the health and wellness services it needs. Consider investing in this insurance for your four-legged friend.