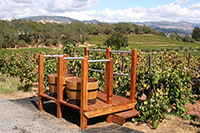 Mad Men may have made alcohol in the workplace look normal, but most people tend to see a drink only at the end of the day. Each business comes with its own dangers, and winery owners need to take into account the specifics. For those who purchase workers' compensation for their winery, there are a number of circumstances to consider. Find out more about how to balance safety with your budget.
Glamor and Hazards
Few things seem more glamorous than a winery, with sophisticated, well-dressed people sipping out of glasses and declaring what hints they taste, so it's easy to ignore the dangers within. For those working in the tasting rooms, the floor has to be dry so they don't slip, they need to use their spit buckets if they taste with the customers, and they need to cut people off when they've had enough. But the real hazards may be what surrounds them.
Wine Cellars and Barrels 
Barrels might be stored very high up, which in certain states (e.g., California) can be extremely dangerous. Earthquakes and forklift operator error may cause far more than liquids to be lost. So far, there is no regulation to change how high they're stacked either. Winery owners may not fully account for the risk they're taking when it comes to safety. When barrels collapse or fall, they pose deadly consequences. Until there's a mandate to change their configurations, it may be worth rethinking barrel stacking for worker safety. A winery's reputation is tied in with how well they treat their employees, so just one incident could mean a major debacle both in terms of direct costs (e.g., fines and raised insurance rates) and indirect costs (e.g., a loss of customer loyalty.)
Accidents Happen
No matter how safe your workplace is, it's never going to be immune from having an accident occur. Without the right coverage, you may be opening yourself up to a lawsuit from the employee or family who claims an extreme amount for either real or imagined damages. With the right safeguards in place though, like liability insurance and complete workers' compensation policies, you reduce your chances of being crushed by financial penalties. Choosing a carrier who will contain the fall-out is going to be as important as implementing safety laws in the workplace.
Your Costs

Costs are determined by your risk assessment and how much you pay your employees. You will get a classification based on how you operate, with each classification having its own base rate when it comes to workers' compensation. Enforcing safety laws is one of the best ways to bring your rates down, as is hiring the right employees and taking the right precautions.