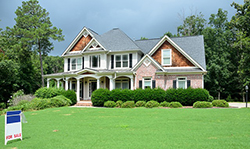 It's become increasingly difficult to sell homes. Because buyers generally decide whether or not to purchase a home in the first five minutes after arriving on a property, curb appeal can make or break a sale. Fortunately, increasing your home's curb appeal to potential buyers is simple and inexpensive.
One of the first things potential buyers notice when they arrive at your home is your landscaping. Landscaping can tell a lot about a home, as poor landscaping often leads buyers to believe the property and home have not been maintained properly. Well-designed landscaping can be an invitation to visitors and can create a good first impression. Fortunately, you need not spend a great deal of money to tidy up your yard. Simply removing any clutter, trimming any existing trees and bushes, and adding a few well-placed flowerbeds will go a long way toward increasing your home's curb appeal.
Fenced yards can often be a selling point, but sagging fences or chipping paint can turn away potential buyers. If your yard is fenced, look at your fence and gates objectively from a buyer's point of view the next time you drive up to your house. In some cases, when fencing is badly damaged, it is probably a wise move to remove the fence completely. In most cases, however, a coat of paint or a quick repair job is all you need to turn an eyesore into a positive feature.
Walkways are another area you can improve easily with little time or money. Replace loose stones, trim and tidy any borders, and fill visible cracks with builder's sand. Remove badly damaged walkways or replace them with inexpensive paths. Trim bushes growing alongside any walkway that leads from the driveway or road to your front door to allow for a comfortable walking space.
One often-overlooked feature that can help tremendously with curb appeal is lighting. Lighting, when done correctly, can highlight the positive areas of your yard while camouflaging unattractive areas. Landscape lighting does not need to be expensive, and solar lights will be attractive to eco-conscious buyers. Typically, a light should be placed in or near an area of landscaping, and lights should adequately illuminate the entry way and any walkways leading to the front door.
Potential buyers will overlook all of the above improvements if your home is badly in need of new paint. You can improve curb appeal drastically by adding a fresh coat of paint to the exterior of your home. Choose warm, neutral colors to create a relaxing impression, but be sure to check with your homeowners association before changing your current color scheme.
Curb appeal is an important part of bringing potential buyers to your front door. An attractive and inviting exterior can create the good first impression needed to bring in an offer on your home, while a poorly maintained yard can send buyers away before they even have a look inside. Improving your home's curb appeal is easy, inexpensive, and essential in today's market.