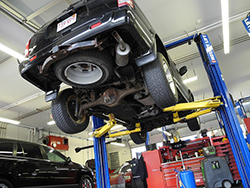 Workers' Compensation is insurance coverage most employers must purchase. It provides numerous benefits for employees and helps them return to work after a work-related injury or illness. Explore auto shop Workers' Compensation options for your business.
What is Auto Shop Workers' Compensation?
An employee who sustains an injury or suffers from an illness while on the job can claim Workers' Compensation. It pays for medical treatment and other expenses until the employee can safely return to work.
Types of Auto Businesses that Qualify for Auto Shop Workers Compensation Options
Numerous auto industries may purchase Workers' Compensation. They include:
Sellers and Dealers of new and used vehicles
Service and Repair Centers that perform repair or service work on mufflers, brakes, engines and other auto parts, including auto dealers, glass replacement or tinting companies and car washes
Body Repair businesses that work on fiberglass, metal or plastic or perform dent removal, upholstery services and painting
Parts Stores, including retail and wholesale parts and accessories stores and drivers
Machine Shops that fabricate, manufacture or rebuild parts that aren't attached to a vehicle
Recycling and Drivers in salvage yards or dismantling operations
What Are Your Auto Shop Workers Compensation Options?
State guidelines include details on the specific auto shop Workers' Compensation options available to your auto business. Possible expenses covered by Workers' Compensation include:
Medical Treatment

Injured or ill employers receive medical treatment, including:

Medical services
Emergency room and other hospital treatment
Surgery
Medicine and medical supplies
Lab testing and procedures
Orthopedic appliances and prostheses
Physical or occupational therapy
Payments for Lost Wages

Employees who are disabled or unable to return to work may receive a portion of their lost wages.
Specific Loss Benefits

An employee who suffers from a serious and permanent face, neck or head disfigurement or loses the permanent use of sight, hearing or a finger, thumb, hand, arm, toe, foot or leg may receive a specific loss amount.
Death Benefits

An employee's survivors may receive a death benefit if the employee is killed on the job.
Vocational Rehabilitation

Training and education that helps an injured or ill employee return to work may be covered by Workers' Compensation. Benefits may also pay for an evaluation, retraining and other expenses associated with helping an employee qualify to work in a different job or industry.
Auto shop Workers' Compensation options is important coverage that ensures employees receive necessary medical treatment that allows them to return to work as quickly as possible. It also protects auto businesses. Explore your auto shop Workers' Compensation options and update your coverage as you meet your needs.