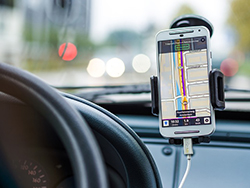 A variety of factors, including accidents and citations, affect your auto insurance rates. Learn what is defensive driving and how it can lower insurance rates as you stay safe and save money.
What is Defensive Driving?
Every time you get behind the wheel, you face threats from other drivers, inclement weather and other challenges. Defensive driving defines the safe driving practices you use to avoid accidents or other incidents on the road.

How Does Defensive Driving Lower Insurance Rates?
Insurance companies assign a rating to each driver based on risk. Age, gender, marital status, address, driving history and other factors affect your rates, and expect to pay more if you're in a high-risk category. That includes young and old drivers and anyone you has received citations for reckless driving or a DUI.
While a speeding ticket can raise your insurance rates by as much as 20 percent, your insurance company might give you a discount if you take a defensive driving course. It proves that you're up-to-date on safe driving practices and better prepared to avoid accidents or citations.
How Defensive Driving Courses Lower Your Insurance Rates
During a defensive driver class, you'll receive a refresher course in safe driving practices.
Review your state's driving laws.
Practice passing other cars safely.
Understand when and how to yield properly.
Learn how to handle skids.
Familiarize yourself with new technology like anti-lock brakes or rear cameras.
Discover how to avoid common distractions and keep your eyes on the road.
Defensive driver courses can last from four hours to several months and be conducted online or in a physical classroom setting. They cost between $20 and $100. Check with the National Safety Council, AAA, AARP or a local retirement community for a class near you.
After you successfully pass the defensive driver class that's approved by your state and accepted by your insurance company, provide the certificate of completion. You may also be required to remain accident-free and avoid citations for a certain amount of time to qualify for the discount.
Young drivers between 16 and 25 years of age may save up to 15 percent annually after successfully taking and passing a defensive driving class. Drivers over 55 may receive a five percent savings. The discount varies by insurance company, so check with your company for details. Also, ask your insurance company if you can renew your training and your discount every three years.
When you discover what is defensive driving and how it can lower insurance rates, you improve safety on the road and save money. Talk to your insurance agent about a defensive driver course and how it can benefit you.