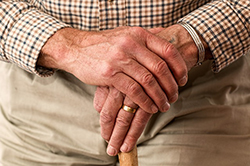 President Trump's proposed budget cuts could save taxpayers $72 billion over the next 10 years. Revealed in May, the budget contains several policy changes that could affect your access to social security disability insurance benefits.
The Social Security Disability Insurance (SSDI) program gives financial support to one in five or roughly 11 million Americans. The average social security disability insurance payment is currently $1,171 per month or $14,000 per year. Unfortunately, the program is fraught with overpayments and fraud. Trump's proposed reform would address these issues.
Reforms Address Overpayments
The majority of overpayments resulted from benefit recipients who received both social security disability insurance and unemployment. In the new budget, beneficiaries would not be able to double dip. While receiving both benefits is not illegal, it did allow 117,000 American to receive over $856 million in 2010 alone with total overpayments amounting to $12.2 billion between 2005 and 2015.
Reforms Address Fraud
Trump's proposed budget changes would also address fraud. Federal investigators uncovered repeated schemes where doctors issued phony diagnoses of physical or mental impairment that allowed beneficiaries to receive millions of dollars for which they were not qualified.
Additional Social Security Insurance Disability Reforms
In addition to addressing overpayments and fraud, the budget proposal includes several additional reforms.
Limit retroactive benefits to six months rather than one year before the applicant's official eligibility. There is currently a five-month waiting period built into the application process.
Require applicants to prove that they tried to find a job before they filed for social security disability insurance.
Mandate rehabilitation before recipients with back pain or arthritis can receive full disability benefits.
Increase work incentives that encourage social security disability insurance beneficiaries to find a job, saving the program $50 billion in five years.
Give administrative law judges a one-year probation period before promoting them to a lifetime appointment.
Implement tougher measures that require facilitators of fraud to repay any overpayments.
Opponents criticize the proposed budget. They fear that the cuts will adversely affect eligibility and benefits for t he disabled Americans who need SSDI. They also cite the failure of previous return-to-work efforts implemented since 1980 and believe the changes benefit the wealthy and punish the middle class.
One spending watchdog group the Committee for a Responsible Federal Budget approves of the proposals. It believes a reform of the social security disability insurance system is necessary to secure the organization's solvency for Americans in the future.
The Congress is currently debating President Trump's proposed budget. Time will tell if the reforms will build a healthier social security disability insurance system. In the meantime, consumers can continue to draw on their benefits and report fraud as they improve the program for everyone