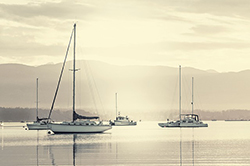 You bought your boat to enjoy it on the water. What happens though when your boat is damaged or you run into something and need repairs? Boat insurance protects you and your assets. Here's what you should know about personal sailboat insurance.
What Does Personal Sailboat Insurance Cover?
Your personal sailboat insurance policy may cover a variety of issues.
Liability

Pay for injuries or property damage you are legally liable for.
Collision

When your boat collides with another boat or object, this coverage pays to repair the damages.
Comprehensive

Any losses not related to collisions, including theft, fire or storms, are covered by comprehensive insurance.
Uninsured or Underinsured

Pay for bodily injury expenses associated with a collision with an uninsured or underinsured boater.
Medical Payments

Cover medical expenses if you or your passengers are injured on your boat.
Personal Property

Replace lost or damaged personal items, including stereo equipment, clothing or food.
Mechanical Breakdowns

Cover necessary repairs or replacement of the motor, even if the cause is normal wear and tear.
Towing Assistance

Receive towing services, fuel delivery, jump starts and other assistance from your insurance company.
Total Loss Replacement

If your new boat is totaled within five years, receive a new boat or the equivalent of the cost you paid for your boat.
Fishing Equipment

If your fishing equipment is damaged, pay to repair or replace it.
How to Purchase Personal Sailboat Insurance
As soon as you purchase a boat, talk to your insurance agent. They can assist you in choosing a customized insurance policy that protects you on the lakes, rivers and waterways you'll sail on.
Remember that personal sailboat insurance may only be available on boats that meet length requirements. Additionally, you may need to submit a marine survey or navigation plans.
Tips to Save Money on Personal Sailboat Insurance
There are several ways to save money on your personal sailboat insurance. First, ask about possible discounts, including:
Multi-policy discount
Boater safety course discount
Safety features or equipment discount
Diesel fuel discount
Payment discount if the annual premium is paid in full
Claim-free renewal discount
You may also customize your coverage and choose only the options you truly need. A higher deductible and selecting Actual Cash Value rather than Agreed Value (replacement value) are additional tips that help you save money on the insurance coverage you need.
Before you take your new boat out for a spin, purchase personal sailboat insurance. It protects your assets and gives you peace of mind.