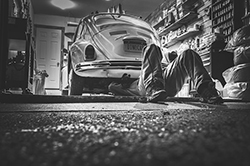 As a mechanic, you spend your workdays fixing cars, trucks and a variety of machines. While the job is different every day, it's also risky. Workers' Compensation for mechanics is an important insurance product that provides medical care and financial support if you're injured or become ill because of your job.

Workers' Compensation Mechanics Risks
Mechanics face numerous risks on the job every day. In fact, this job is one of the most dangerous careers in the United States.

Falls and Slips
Oil, gas and other fluids make shop floors slippery, and it's easy to trip over parts or tools on the ground. Falls and slips could easily cause a fracture, sprain or other injury.
Being Struck by a Tool or Vehicle Part
Over one in four accidents occur when something like a dropped tool or loose part strikes you as you work. These accidents could cause a concussion, sprain or other injury.
Burns
If the vehicle you work on is hot or you change hot fluids, you risk a serious burn.

Cuts
Operating manual or power tools is essential as you disassemble and assemble vehicles, but if you're cut, the resulting laceration could require stitches or result in a more serious injury.
Getting Caught in Equipment
Moving tires and engines pose a serious risk for mechanics. You could be injured or disabled.

Falling Objects
Even though you secure a vehicle on a jack, lift or rack, it could fall off and pin you underneath, causing a serious injury or disability.
Strain
Overexertion from repetitive lifting or other repetitive movements can cause carpal tunnel or arm, wrist, elbow, back or leg strain. Lifting heavy objects, sitting or standing in one position for a long time or bending over might also cause strain.

Toxic Exposure
Chemicals, gasoline additives and other chemicals can cause long-term illnesses like respiratory disease or cancer when you're exposed to them over time. Lead is another risk that causes anemia, kidney disease and other illnesses.
What Does Workers' Compensation for Mechanics Cover?
Workers' Compensation covers expenses related to injuries or illnesses you receive on the job. It can pay for medical treatment, a portion of lost wages or education and job training.
How to Prevent Workers' Compensation Risks for Mechanics
While you can't prevent every injury or illness on the job, you can take several precautions.
Always secure vehicles.
Wear safety equipment.
Use proper lifting techniques.
Employ tools when lifting heavy objects.
Keep the shop clean.
Take frequent breaks.
The Workers' Compensation risk for mechanics is high. Protect yourself as you work and make sure your employer carries the right Workers' Compensation insurance in case you're injured or become ill on the job.