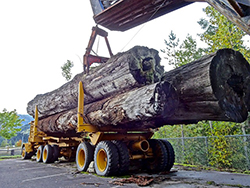 Logging is one of the oldest and most dangerous professions in the United States. Workers are exposed to dozens of potential illnesses and injuries on the ground, in heavy equipment or around a sawmill. Discover the Workers' Compensation risks in the logging industry as you protect yourself on the job.
Logging Dangers
Employees in the logging industry face dozens of challenges. They typically work in rough terrain outdoors in all kinds of weather conditions around heavy logs and heavy equipment. Accidents can happen easily in these conditions.
Accidents are also common due to falling trees or equipment troubles. The work is hard, too, and can be exhausting, making it easy for employees to let down their guard.
Isolated logging locations can also increase the negative effects of an illness or injury since employees may be far from medical treatment.
Consider these additional risks, too.
Being hit by dangling branches or falling logs
Falling from trees
Chainsaw and axe injuries
Tractor or heavy equipment accidents
Repetitive strain injuries
Uneven terrain that causes fractures, sprains, lower body injuries, lacerations or contusions
Logging Jobs Eligible for Workers' Compensation Insurance

The logging industry comprises dozens of different jobs in timbering, hauling, processing and manufacturing. In each of these jobs, you're at risk for injury or illness. Here's an example of several jobs that are eligible for Workers' Compensation.
Timber excavation
Manual or mechanized fallers
Buckers
Tree climbers
Choke setters
Rigging slingers and chasers
Tractor, loader or other heavy machine operators
Log sorters
Transporters
Debarking crew
Planing crew
Machine operators
Log and chip processors
Machine mechanics
Lumberyard employees
Log graders and scalers
Customer service specialists
Building material dealers
Foremen and crew
How to Prevent Logging Injuries and Illnesses
Even though you're careful and use proper safety equipment, you can still be injured or become ill on the job. Take these precautions as you prevent logging injuries or illnesses that are eligible for Workers' Compensation.
Wear safety equipment. Your gear should include a hard hat, sturdy boots with slip-proof soles, appropriate clothing and protective-hearing devices.
Know how to operate equipment whether you're in charge of a chainsaw or logging truck.
Take ongoing safety training to stay updated on industry safety procedures and practices.
Insist others follow safety procedures. Always point out unsafe practices as you encourage a culture of safety.
Are you Covered?
If you work in the logging industry, you need Workers' Compensation insurance for loggers. It covers a variety of work-related illnesses and injuries and ensures you receive medical care and income if you're injured or become ill because of your job. Whether you cut, haul or process logs, make sure your employer carries this valuable coverage as you protect yourself on the job.