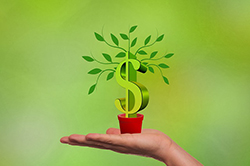 Personal savings has become an increasingly important part of preparing for financial security in retirement. That Americans recognize this is seen in the findings of a study from the Investment Company Institute that found, despite the challenges wrought by today's tough economy, individual retirement account (IRA) ownership has remained steady. Apparently, Americans are resisting the temptation to cash in on their retirement savings to cover their short-term financial needs, or in reaction to the volatilities and uncertainties in the financial markets.
According to the ICI report, The Role of IRAs in U.S. Households' Saving for Retirement, 2009, 39% of households own IRAs. This includes 31% of households reporting owning traditional IRAs, 15% owning Roth IRAs, and 8% owning employer-sponsored IRAs (SIMPLE IRAs, SEP IRAs and SAR-SEP IRAs). IRA holdings represent about one-quarter of U.S. total retirement assets (up from 15% two decades ago), and 9% of all household financial assets (up from 4%).
IRA growth has been fueled by rollovers from employer-sponsored retirement plans, the survey reports. In 2009, 54% of households owning traditional IRAs had rollover assets in these IRAs. Among these IRA-owners, 89% reported that they had rolled over their most recent retirement plan distribution, in its entirety, into their IRA.
In contrast, few IRA-eligible individuals actually make contributions of new money to IRAs. In 2008, only 15% of U.S. households contributed to either a traditional IRA or a Roth IRA. This marks one of the few "bad news" findings from the report, and underscores how important rollovers of employer-sponsored retirement plan distributions have been to IRA growth.
Despite uncertainties in the financial markets and economic pressures that have left many households cash-strapped, IRA withdrawals continue to be infrequent and mostly retirement-related. Only 19% of households owning traditional IRAs took a withdrawal in tax year 2008, and for 84% of these households the withdrawals were made in retirement.
Even among IRA-holding households in which at least one family member was in retirement age, nearly 60% did not take an IRA withdrawal in 2008.
Only 5% of traditional IRA holders making withdrawals were younger than age 59 1/2. Furthermore, 64% of IRA-owning households not making withdrawals in tax year 2008 said it was unlikely that they would withdraw from their IRAs before age 70 1/2.
Among IRA holders who did make withdrawals, the size of these withdrawals was typically modest, with a median of 8% of the IRA account balance withdrawn. Expressed in dollar amounts, one-third of the withdrawals were less than $2,500. For households withdrawing IRA funds in retirement, 44% reported using withdrawal proceeds for living expenses while almost a third said they reinvested the withdrawal or deposited it in another account. Health care expenses (cited by 19%), home purchase, repair or remodeling (15%) and emergencies (14%) were other reported uses of IRA withdrawals.
The ICI report validates the continued importance of IRAs to U.S. household wealth and to individuals' income in retirement. However, efforts to increase new contributions to IRAs are necessary in order to increase the overall financial security of Americans in retirement.