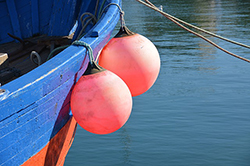 Seamen who suffer an injury on the job are protected by the Jones Act. Also called the Merchant Marine Act of 1920, these laws include many components that support safe working conditions for employees in the vibrant maritime industry.

Who Does the Jones Act Protect?
According to the Act, seamen have the right to work in a safe environment. They may file a civil suit and maritime injury claim if they are the victim of an accident or injury on the job.
The act covers all seamen who work aboard or support the function of a maritime vessel on navigable waters. The seamen must spend at least 30 percent of their workday on the vessel to be protected by the Jones Act.
Why is the Jones Act Important?
The Jones Act makes vessels safer for seamen as it forces vessels to follow U.S. laws and holds employers responsible for their employees' safety. It supports the United States military as it ensures private vessels are safe and ready to function properly before, during and after war time. It also ensures the safety and productivity of seamen on the nearly 40,000 vessels that support the country's economy.
Potential Jones Act Claims
Every Jones Act claim is treated individually, and damages depend on the individual situation and details. Seamen may claim several things when they file a Jones Act claim.
Lost Wages – Receive payment for present lost wages, a portion of future earnings and losses of vacation time, pensions, 401k contributions and other benefits.
Medical Costs – Receive payment for present and future medical expenses related to the accident or injury. These claims can include:
Medically-necessary equipment
Mental health care
Occupational or physical therapy
Rehabilitation
Surgery
Transportation to treatment
Punitive Damages – Receive payment for medical costs, lost wages or pain and suffering from accidents and injuries caused by an unseaworthy vessel or employer negligence.
Wrongful Death – Receive payment to cover the funeral or lost wages and special needs of the seaman's dependent children if the seaman dies while on duty.
Pain and Suffering – Receive payment for mental and physical pain suffered.
How to File a Jones Act Claim
When a qualified seaman is injured on the job, he or she may file a claim for damages. By law, the claim must be filed within seven days of the injury. It should also be reported to the Captain or supervisor, and an official maritime accident report detailing the injury or accident is required.
The Jones Act allows seamen to file maritime injury claims. It protects seamen and is important for the Americans they protect and support.