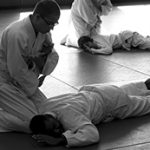 Teaching martial arts is a way for you to share your skills with students of all ages as you equip them to protect themselves. Whether you own your own martial arts school or teach martial arts as an independent contractor, understand Workers' Compensation for martial arts instructors. It protects you and your assets.
What is Workers' Compensation for Martial Arts Instructors?
You emphasize safety in all your martial art classes. However, accidents can happen at any time. You or one of your employees could be injured while sparring with an advanced student or receive a concussion from the blow of an inexperienced first-year student. An environmental or other condition in the studio could make you or your employees ill as you work, too. Workers' Compensation protects you and your business.
A Workers' Compensation insurance policy pays medical expenses, lost wages, vocational rehab and death benefits to employees who are injured or become ill because of work. It helps your employees get better and return to work as soon as possible.
It also protects your assets. You are responsible for the costs associated with treating an injury or illness that occurs on the job. These expenses can be high, causing you to lose your business or personal assets as you pay off the debt or cover related legal expenses.
Why Martial Arts Instructors Need Workers' Compensation
In most cases, you must purchase Workers' Compensation. Many states require this coverage.
Workers' Compensation is also important for business owners. You will probably need to show it to your landlord when you lease your studio.
You will also want Workers' Compensation if you teach martial arts as a self-employed independent contractor. Many martial art school owners will ask to see a copy of your policy before they hire you to teach.

Which Martial Art Instructors can Purchase Workers' Compensation
All martial art instructors should purchase Workers' Compensation. It protects you whether you use your skills to teach traditional martial arts classes, self defense classes or law enforcement or tactical defense classes.
Martial art instructor Workers' Compensation does not cover military trainers, tournaments or competitions, athletic trainers or boxers.
For more details on which martial art instructors can purchase Workers' Compensation, talk with your insurance agent. Discuss the types of classes you teach, how often you teach and where you teach as you determine how much Workers' Compensation coverage you need.
How to Purchase Workers' Compensation
Your insurance agent can help you purchase Workers' Compensation for martial art instructors. He or she will also provide details about your coverage.
Workers' Compensation for martial art instructors is an important part of your business. Be sure you have adequate insurance coverage before you teach your next class.