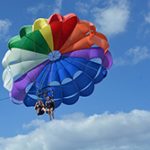 Owning a water sport business can be fun and a good investment, but you need to hire employees to help the business run smoothly. Be sure you purchase adequate Workers' Compensation to cover your employees and protect your assets.
Covered Water Sport Businesses
Your water sports business could encompass dozens of activities in, on or near water. Whether you offer one or several sports, you will need Workers' Compensation for your business. Example of water sports offerings include:
Fishing
Boating, Sailing, Yachting
Kayaking, Tubing, Canoeing
White Water Rafting
Jet or Water Skiing
Parasailing
Kneeboarding, Skimboarding
Kitesurfing, Kiteboarding
Hoverboarding, Flyboarding, Wakeboarding
Paddleboarding, Paddle Surfing
Snorkeling or Scuba Diving
Swimming and Diving
Polo
Surfing
What is Workers' Compensation?
Many states require business owners to purchase Workers' Compensation for employees, including seasonal and temporary workers. It pays certain expenses employees incur if they are injured or suffer an illness while performing work-related tasks.
Workers' Compensation benefits can pay for:
Medical care
Lost wages
Death benefits
Vocational rehabilitation
Every Workers' Compensation insurance policy has two parts.
Part One or Coverage A addresses your statutory liability, meaning the coverage your state requires you to carry. It includes no coverage limits and will pay all claims regardless of any benefit changes your state makes.
Part Two addresses employer liability for any employees that are exempt from Worker's Compensation coverage. These employees could include independent contractors like boat owners or dive instructors who do not purchase their own Worker's Compensation policy. Part Two can also cover legal expenses from third-party lawsuits.

Why you Need Workers' Compensation for Your Water Sport Business
Whether your business operates year-round or seasonally, you value your employees and want to protect them from injuries or illnesses. However, accidents happen. You will want to provide financial resources that help your employees navigate their recovery and return to full health and work as quickly as possible.
Adequate Workers' Compensation protects your business, too. It can protect your assets if you are sued by an employee, and it can pay legal expenses related to any lawsuits. Workers' Compensation coverage also protects you from fines levied by your state if you don't purchase adequate coverage.
Contact Your Insurance Agent
For more information on Workers' Compensation for your specific water sport businesses, contact your insurance agent. He or she will assist you in understanding and complying with your state's Workers' Compensation laws. Your agent will also help you purchase the policy that's right for your business and needs.
With the right Workers' Compensation policy, you receive peace of mind. It protects your employees and your assets as you help your customers have fun while playing on the water.