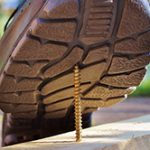 In the recent case of In Re: the Compensation of Mary S. Sandberg, an Oregon court overruled the Workers Comp Board and held that a JC Penney decorator, who was allowed to work from home, was covered by her Workers Comp policy when she tripped over her dog unloading a van.
Because she could not safely store all of the items in the vehicle at one time, she stored the excess items in her home garage. Her employer instructed Sandberg not to store these excess products at the studio, but to keep them at her home or any other place where they would be safe and dry. Thus, she used her home garage to store samples that from time to time she would need to exchange with other samples and materials that she kept in her van.
On the Saturday before the date of injury, a sale collection had ended, with a new collection beginning the next day. Because of the fabric sale change, Sandberg needed to remove the "old" fabrics from her van and replace them with fabrics for the new sale that were being stored in her garage. She was walking out her back door toward the garage to change the fabrics when her foot came down and she "felt something move." Noticing that her dog was underfoot, she shifted to her other foot, lost her balance, and fell, sustaining a right distal radius fracture."
Sandberg also regularly performed some work tasks, such as preparing bids and other paperwork, in her home. The employer denied her claim for compensation for the injury, a decision approved by the administrative law judge (ALJ) affirmed the denial, as did the Workers Compensation board.
When Sandberg appealed this decision, the court ruled that:
"In order to be compensable under Oregon law, an injury must 'aris[e] out of' and occur 'in the course of' a claimant's employment; ORS 656.005(7)(a). Because the board did not determine whether claimant's injury occurred in the course of her employment, that issue is not before us. The only issue on review is whether claimant's injury arose out of her employment. Thus, our focus is on whether claimant established a causal connection between her injury and her employment, that is, whether claimant's injury resulted from a risk connected to either the nature of her work or her work environment. ….
"[O]nce it is established that the home premises are also the work premises * * *, it follows that the hazards of home premises encountered in connection with the performance of the work are also hazards of the employment. [Editors Note: such as a dog lying around.]
" * * * That the employee is a telecommuter or other home-based worker should not, in and of itself, make any difference. Was the risk of injury a risk of this employment? So long as the employment subjects the employee to the actual risk of injury, the argument follows that the injury should be compensable.
"Here, claimant was walking to her garage for the sole purpose of performing a work task. She fell while moving about an area in which she had to move about in order to perform the work task, given the conditions of her employment. Therefore, we conclude that claimant's injury resulted from a risk of her work environment. As such, it arose out of her employment."
The bottom line for employers: make sure that telecommuting employees have safe workplaces and proper insurance coverages. HR That Works Members should use the Home Based Worker Checklist.