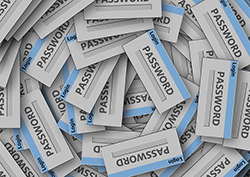 Celebrate National Cyber Security Awareness month with strong passwords. They protect your information from cybercriminals and keep you safe as you use the internet.
1. Use a combination of letters, numbers and symbols.
The best keywords are difficult to guess, so use a combination of lowercase and uppercase letters, numbers and symbols.
2. Use at least eight characters.
Longer passwords are more difficult to guess, so aim to make all your passwords at least eight characters long.
3. Avoid common words.
It's amazing how many people set common words like "qwerty" or "12345" as their passwords. You secure your accounts when you use more challenging passwords.
4. Opt for unique phrases.
Single-word passwords are easy for hackers to crack with their dictionary software. Phrases like "I like ham sandwiches" or "the dog ate my homework" are more challenging to hack. Consider misspelling phrases, too, and replace letters with numbers or symbols or abbreviate words. Examples include ilIkeh@msandw!ches or tHed@g8myhomew*rk.
5. Avoid using your name or familiar numbers.
Hackers can easily find information about your life and use those details to hack into the websites you use. Never use your:
Name, including nickname or maiden name
Birth date
Social Security number
Street address
Family members' names or birthdates
Pets' names
Address, current or former
6. Don't reuse passwords.
When you change your password, pick a unique password that you've never used on any site.
7. Give every site a different password.
Use the same password for multiple sites, and you invite a hacker to access all your information. Instead, use a different password for every site. A password manager can help you remember all your different passwords.
8. Use a two-factor authentication.
A two-factor authentication or 2FA increases your log-in security. It typically includes your password and a PIN, code, fingerprint or voiceprint.
9. Don't save your passwords.
Browsers typically prompt you to save passwords. Always click no. Someone could gain access to your device and then log into websites using your saved passwords.
10. Log out of websites and devices.
After using a website or device, log out. This step reduces the chances of someone logging onto your device and gaining access the sites you used.
11. Change your passwords often.
At least once a month or more often for bank or social media sites, change the password. Set a reminder alarm on your phone's calendar if necessary.
Celebrate National Cyber Security Awareness month by securing all your passwords. When you secure your passwords, you make it more challenging for cybercriminals to steal your personal information. For additional safety tips and details about cyber insurance, talk to your insurance agent today.