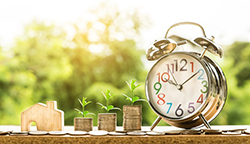 One in four Americans over the age of 65 receives long-term care annually reports the U.S. Department of Commerce. You too could require care. Prepare your finances now for this possibility.
Know Your Options

Long-term care is defined as assistance performing daily living activities for longer than 90 days. Those daily living activities can range from household chores and paying bills to eating and bathing.

You can receive long-term care at home with an in-home aide, in an assisted living facility, at a nursing home or through hospice. Care can range from an hour a day to around-the-clock.
Calculate the Cost

The cost of long-term care can be expensive. Combined costs account for 10 percent of the total healthcare costs in the U.S. In fact, a private or semi-private nursing room room can cost over $6,000 per month while a one-bedroom assisted living apartment averages $3,200 per month.

You typically can't pre-pay a facility for long-term care, but you can begin to calculate how much money you'll need to save. With careful planning, you can accumulate adequate resources to cover the cost of your future care.
Create a Financial Plan

Now's the time to begin planning financially for your long-term care. You can choose from a combination of several payment options.

The first option is a long-term care insurance policy. It allows you to choose the benefits and length of care you receive. The policy's cost depends on your policy details and your age and health when you buy the policy.Your insurance agent will help you evaluate your specific circumstances as you choose the right long-term care insurance for your needs and budget.

Medicare and Medicaid are additional options that may cover some of your long-term care.  Medicare is health insurance for elderly and disabled Americans, and it's provided by the federal government. Medicaid provides care for low-income seniors, and each state determines its cost, services and eligibility.

You could also cash out your life insurance policy or retirement accounts as you pay for your long-term care.

Many consumers rely on private savings, too. They can supplement other options and allow you to afford the long-term care you need, want and deserve.
Start Planning Now

You can plan for long-term care any time, but it's better to start when you're in your late 40s or early 50s. At this age, you're healthy enough to qualify for long-term care insurance and have adequate financial resources to add long-term care into your overall retirement savings strategy.
Chances are high that you'll eventually need some sort of long-term care. Understand your options and consider your preferences as you plan financially for the future.