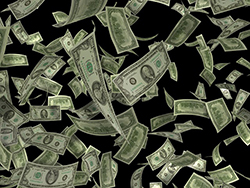 A cyber breach occurs when someone gains access to information they should not have. In our age of digitization, all businesses face cyber attack risks that could halt operations temporarily or permanently. Discover the cost of a cyber breach and ways you can protect your business.
Calculating the Cost of Cyber Breaches

The Wall Street Journal estimated that cyber crime in 2014 cost U.S. businesses $100 billion. That figure could top $2.1 trillion worldwide by 2019. Consider these nine common cyber breach costs.
1. Loss of Customers – A 2016 study found that 76 percent of consumers would stop doing business with a company that suffered repeated data breaches.
2. Business Disruption – Business process failure and lost employee productivity account for almost 40 percent of the total cyber attack costs. This figure does not account for lost ideas or blueprints. Additionally, your business could lose half of its annual revenue if a cyber attack occurs during the busy season.
3. Breached Client Records – Lost or stolen records that contain sensitive or confidential information can cost a company more than $221 per record.
4. Notification Costs – PCI, HIPAA and other regulations require your company to notify each individual whose information was affected by a cyber attack. The average notification costs in 2016 totalled $0.59 million.
5. Public Relations – To repair your reputation, expect to spend significant time and financial resources preparing and distributing media resources, informing victims, employees and shareholders about ongoing breach repair efforts, and acquiring new customers.
6. Legal Costs – Major retailers have paid as much as $10 million to settle class-action lawsuits filed by consumers. Your costs may not be that high, but you could face hefty legal fees in addition to your legal defense costs.
7. Regulatory Fines – After a breach, your business could face fines from several regulatory agencies, including the Federal Trade Commission, Federal Communications Commission,  Payment Card Industry Data Security Standard or Health and Human Services.
8. Identity Theft Repair and Monitoring – The cost of identity theft repair and monitoring averages $10 per victim.
How to Reduce Cyber Attack Risk
Unfortunately, your business cannot protect itself 100 percent from a cyber breach. However, you can take steps to reduce your risk.
First, implement data loss prevention technologies, including encryption. Then train employees to protect information and systems. You should also prepare an incident response plan and team as well as a business continuity management plan. Purchase cyber insurance, too, since it can cover financial loss.
A cyber breach is expensive and could break your business. Contact your insurance agent for specific tips on how you can protect your company.