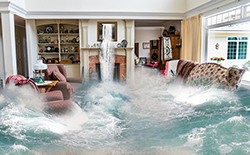 Last month, the President signed a bill extending the National Flood Insurance Program (NFIP) for five years. This means that millions of Americans will be able to protect themselves against a risk that can cost the nation billions a year in property damage.
It makes sense to consider buying this coverage. For one thing, the chances are that your Homeowners policy does not cover losses from floods. For another, about one in four NFIP claims come from areas with a low or moderate risk of flooding, according to the Federal Emergency Management Agency.
Before you make a decision, see if you're eligible for the program: Make sure that your community meets NFIP zoning and construction guidelines for floodplain management, crafted to reduce the danger of flooding:
To determine the degree of risk in your area, go to http://www.floodsmart.gov/floodsmart/ (a site that offers a wealth of information on Flood insurance) and enter your name and address. If you live in a community with low to moderate risk, you might qualify for Preferred Risk coverage, with an annual premium as low as $129.
Bear in mind that:
The maximum payout under a Flood policy is $250,000 (for your building) and $100,000 (for its contents)
If you need more coverage, you can purchase Excess insurance
After you buy a policy, there's a 30-day waiting period before it goes into effect. 
If you don't have coverage for a flood loss, don't expect a bailout from Uncle Sam. Although you might be eligible for a federal disaster assistance loan, you'll have to repay it, with interest.
Before you make a decision on Flood insurance, feel free to get in touch with us — we'd be happy to review the pros and cons of this valuable coverage.