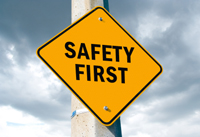 The Occupational Safety and Health Administration (OSHA) has a list of companies that face inspection and enforcement – and your company might well be on it!
Here are five ways to evaluate your chances of getting a visit from OSHA:
Check your own injury and accident rates. Use the OSHA Form 300 log and Form 300A Summary to review your accident statistics, injury and illness logs, and incident rates, particularly your Days Away, Restricted, and Transferred (DART) rate, and Days Away from Work Injury and Illness (DAFWII) rate.
Look at OSHA trends in citations and violations for your industry. Go to the OSHA Web site at http://www.osha.gov/pls/imis/citedstandard.html and browse through the regulations that cover your industry for the number of citations under a particular regulation
Compare your incidence rate with those of your competitors. You can find the history of your competitors' inspections on the OSHA site at http://www.osha.gov/oshstats/index.html. The database also contains the list of citations by regulation number.
Determine whether you're making the news. OSHA inspectors respond to media stories about an organization, even if the coverage is positive. If a news agency wants information about you, carefully screen any comments or photographs you provide. Even a positive story can sting you inadvertently when it comes to workplace safety and health.
Monitor what's new with OSHA. Keep an eye on the agency's Special Emphasis program (http://search.usa.gov/search?affiliate=usdoloshapublicwebsite&query=Special+Needs+Program&x=34&y=8) for targeting certain high-hazard industries)