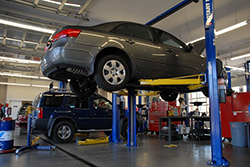 This spring, add fleet maintenance to your list of chores. The right maintenance prepares your business vehicles to operate safely during the busy spring and summer months. Plus, these tips remove remnants of winter weather and prolong the life of your valuable fleet.
Inspect Brakes

Properly functioning brakes allow your vehicle to stop when necessary. Verify that the pads and rotors remain in good shape or replace them if necessary. Clean any winter salt and residue from the anti-lock braking system also.
Change Fluids
Fluids equip a vehicle's motor to operate properly. Change the oil, flush the transmission fluid and refill the window washer fluid to protect your fleet.
Check the Belts and Hoses
Broken, cracked, softened, peeling or worn belts and hoses affect a vehicle's performance. Now that spring is here, check all the belts and hoses under the hood and replace any that show signs of wear.
Adjust the Alignment and Suspension
Potholes and winter debris affect a vehicle's alignment and suspension, causing it to pull to one side or vibrate. Reduce your accident risk and ensure your vehicles operate properly when you correct any alignment or suspension problems.
Rotate and Fill Tires
Because the tires enhance traction, handling and safety, rotate and fill them to the proper pressure. Verify that the tread on each tire is adequate, too.
Charge the Battery
After working hard all winter, the battery may be drained. Charge it or replace the battery if you notice that the electrical components of your vehicle operate slower than normal.
Test the Air Conditioner
A properly functioning air conditioner keeps your employees comfortable into the summer. Turn it on and ensure it reaches full blast within a short time. Recharge or repair the air conditioner if it doesn't get cold.
Stock Supplies
Whether your employees drive company cars to make deliveries or meet with clients, stock adequate supplies. The fleet vehicles should have a first aid kit, updated registration and insurance information, and any items essential for work.
Perform a Complete Detail

Salt melts snow and ice on winter roads, but it also causes rust on a vehicle's undercarriage. Wash your fleet vehicles carefully to remove any salt and other winter residue. Remove dirt and debris from the inside of your vehicles, too, to improve safety and visibility.
Schedule the Annual Inspection
Double check when the annual inspections are due for each vehicle, and plan those inspections.
Reduce the risk of vehicle accidents when you maintain your business fleet this spring. For additional tips, talk to your commercial auto insurance agent.