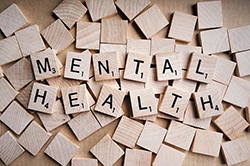 You're familiar with the physical health benefits your insurance provides, but you may not be familiar with your mental health benefits. These benefits address numerous mental and behavioral health challenges you may face, and you can use them in several ways.
Therapy and Counseling
See a licensed therapist or counselor and discuss any work, family or personal stressors, past or present trauma, and other challenges you face. You can see a therapist for a specific issue for a limited number of sessions or maintain an ongoing relationship as part of your long-term self-care.
Group Support
Join a support group for a specific health or wellness condition. Group sessions can address grief, substance use, anger management, and a variety of other concerns.
Medication
If you need prescription medication for anxiety, depression or another condition, see your physician or psychiatrist. Your insurance should include prescription medication coverage.
Screenings
Receive an alcohol misuse or depression screening as you improve your overall health. The screening results can help you decide if you need additional treatment.
Alcohol Misuse or Substance Use
Get help for an alcohol misuse or substance use concern. With insurance, you can attend detox or rehab and individual or group therapy sessions and receive other beneficial support.
Inpatient Services
Sometimes, you need the intensive treatment an inpatient behavioral stay can provide. Use your insurance benefits to pay for your stay in an approved inpatient program.
Excluded Mental Health Diagnoses
Some health plans exclude certain physical, mental or behavioral health diagnoses. Review your policy so you understand any exclusions and the out-of-pocket expenses you'll owe if you decide to pursue treatment.
Understand Parity Protection
You may hesitate to use your mental health benefits because you worry that it will cost more than regular health treatment. Typically, insurance policies provide parity protection for mental health benefits. It ensures you don't pay more for mental health treatment than you pay for regular health treatment, so use the benefit if you need it.
Check your Policy for Coverage Details

Almost all insurance plans provide mental, behavioral and substance use health benefits. However, your specific coverage and benefit limits depend on your policy and even state laws. Check your policy carefully so you know details like:
Covered services
In-network providers
Counseling session annual or lifetime limits
Co-pays for services
Deductible
Pre-authorization requirements
How claims are paid
If you have questions about your coverage, read your policy. You can also talk to your human resources professional or contact the insurance company to clarify anything you don't understand.
The mental health benefits included in your health insurance coverage can help you manage mental and behavioral challenges. Understand how to use your coverage as you get and stay healthy.