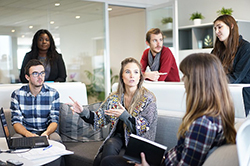 By 2019, the cybersecurity industry will face a deficit of over two million professionals. Whether your company needs a solid cybersecurity team or already has a great team in place, consider taking steps to fight this deficit and protect your business.
Detail the Threat
Incite current employees to enter the cybersecurity industry when you detail current threats, including phishing scams and cyber breaches. Employees who are aware of the threats may step up and seek further training so they can protect others.

Make Cybersecurity Everyone's Job
Cyberbreach costs exceed $100 billion annually in the United States. Despite your cyber liability insurance policy, your company is not immune to breaches. Ensure that every employee understands the basics of privacy and security in their daily operations. With ongoing training, your team will be equipped to protect your company.

Recommend Schools that Align with National Cybersecurity Guidelines
The National Security Agency (NSA) and Department of Homeland Security (DHS) sponsor a program that supports cybersecurity education for all elementary to postgraduate students and aims to improve the number of trained cybersecurity professionals. Currently, 200 universities have earned the Centers of Academic Excellence in Cyber Defense (CAE-CD) status in the U.S. Highlight these schools as you encourage people to enter the cybersecurity field.

Encourage Hands-on Training
In addition to four-year degrees, a variety of hands-on certification programs also train students to handle cyber challenges. They include the Certified Information Systems Security Professional (CISSP), Systems Security Certified Practitioner (SSCP), Security+, Network+, GIAC Penetration Tester (GPEN), and Certified Ethical Hacker (CEH). The hands-on education means graduates are prepared to succeed as security specialists, security analysts or other security professionals immediately after graduation.
Introduce Practical Skills

A cybersecurity training program will include technical classes in risk management, data mining and statistical analysis. However, students must know other skills such as collaboration, conflict management, perseverance, and attention to detail. These practical skills provide a well-rounded education and enhance a student's ability to succeed in the cybersecurity field.

Offer an Annual Scholarship or Tuition Reimbursement
Sometimes, finances prevent someone from pursuing a cybersecurity career. Reduce financial strain with a scholarship for current employees and their family members. You could also offer tuition reimbursement that allows employees to boost their current cybersecurity skills or pursue advanced training.
Allow Flexible Work Hours
If your employees express interest in pursuing cybersecurity training, give them a flexible work schedule. They can work a different shift, share duties with another employee or telecommute as they balance work and classes.
Your company can do its part to train new cybersecurity professionals. Take these steps so that more trained personnel can fight cybercrime and keep data safe.