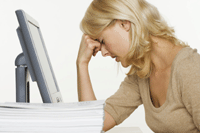 The U.S. Court of Appeals for the First Circuit ruled recently that an employee who frequently missed time from work due to chronic fatigue syndrome had the right to present her Americans with Disabilities Act (ADA) claims to a jury. The Court found significant the fact that the employee had been accommodated in the past through a flexible work schedule that allowed her to work regularly.
Facts of the Case: In Valle-Arce v. Puerto Rico Ports Authority, the employee, who worked in the human resources department of the Puerto Rico Ports Authority, suffered from chronic fatigue syndrome (CFS). Her symptoms included insomnia, joint and muscle pain and weakness, and headaches.
To accommodate her insomnia, her doctor had suggested changing her work start time from the employer's standard 7:30 a.m. start time to 9:00 a.m., and she communicated this to her employer. For two years, the employee's supervisor accommodated her request by allowing her to come in to work later, as long as she completed the requisite 37.5 hours per week or accounted for any shortfall with vacation or sick leave.
Subsequently, the employee was assigned a new supervisor who began to question her flexible schedule almost immediately and monitor her entry and exit times. In addition, the employee alleged that her new supervisor harassed her by, for example, reprimanding her for late arrivals, telling her that insomnia was not an excuse for absences and, sometimes requiring her to obtain doctors' notes covering absences of one or two days, when the employer's policy required such notes only for absences of three days or more. Over time, according to the employee, her new supervisor's alleged harassment caused her CFS symptoms to worsen, to the point that she needed to take two extended medical leaves.
After she returned from her first period of leave, the employee's supervisor recommended disciplining her for mishandling the reasonable accommodation request of a coworker. The company eventually terminated the employee because she allegedly violated confidentiality rules in handling an employee's reasonable accommodation request and used her work computer and other work resources for a personal matter during work time. At trial, the lower court granted the employer's motion for judgment as a matter of law, finding that the employee was not a qualified individual under the ADA because attendance was an essential function of her job. The employee then filed an appeal.
The Court's Ruling: On appeal, the U.S. Court of Appeals for the First Circuit vacated the lower court's decision. Although acknowledging that attendance is an essential function of any job, the Court noted that the employee presented evidence that the flexible work schedule she had requested as an accommodation would have allowed her to fulfill the essential function of attendance. The employee testified that she had never been reprimanded during the time her former supervisor had allowed her to work a flexible schedule; and that the stress caused by her new supervisor's alleged haranguing about her attendance led to her having to take extended medical leave, leading to the long absences on which the trial court based its ruling that she was unqualified.
The Court also held that a jury might have considered the employee's testimony regarding poor treatment by her new supervisor to be evidence of disability discrimination or retaliation for her requests for a reasonable accommodation.
Finally, the Court noted, the employee presented enough evidence for a jury to question whether her termination was retaliatory, as she testified that other employees used their computers for personal matters and that she did not violate any agency policies in her handling of her co-worker's reasonable accommodation request.
Practical Impact: The ADA Amendments Act of 2008 makes it far easier for employees to show that their health condition qualifies as a disability. In this case, the employee was accommodated under the regime of a prior supervisor, but her new supervisor was less willing to accommodate her request for flexible work hours.
Although new supervisors are generally free to enforce attendance standards that a prior supervisor did not, if the new supervisor rejects a prior accommodation that allowed the individual to meet the essential functions of their position, as was the case here, the employer could face liability under the ADA.
Article courtesy of Worklaw® Network firm Shawe Rosenthal (www.shawe.com).