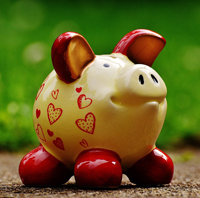 As a small business owner, you always look for ways to improve your company's bottom line. Sometimes, you may be so focused on helping the business succeed that you forget your own needs. Be prepared for unexpected financial challenges, give your family peace of mind and reduce stress when you save an emergency fund. It's an important part of your financial portfolio.
What is an Emergency Fund?
Your biggest client sells the company and stops placing orders.
Your husband discovers termites in the basement.
Your son needs oral surgery that's not covered by insurance.
These emergencies are a few examples of unexpected expenses that affect your finances. You could withdraw from your 401(k) or IRA, take out a loan or borrow from your business, but those steps cause severe penalties both now and in the future. With an emergency fund, you can weather these challenges with little ill effects.
How Much Should you Save in an Emergency Fund?
Everyone's needs are different. Use these guidelines as a starting point for deciding how much money your emergency fund should have.
At minimum, save three months of living expenses. These expenses include your mortgage, utilities, insurance, food, entertainment, debt repayment, school tuition, clothing and other daily living expenses. As an example, you should save $9,000 if your monthly living expenses total $3,000.
If you have dependents, including a spouse, children or aging parents, save six months of living expenses. This figure protects your loved ones and accommodates the higher cost of living you may incur.
If you're a high wage earner or concerned even a little bit about your business's financial future, save 12 months of living expenses. This figure is significant, but it gives you peace of mind in case something goes wrong.
Where Should you Invest Your Emergency Fund?
Because you need your emergency funds accessible, don't invest them in an account that will penalize you for withdrawing from it. Instead, consider a short-term certificate of deposit or a regular savings account at an online bank. Shop around to find the best interest rate.
How Can you Boost Emergency Fund Savings?
It can be intimidating to save thousands of dollars in an emergency fund, but you can do it one dollar at a time. Start saving money automatically from every paycheck. You can also give up a coffee or two each week and look for other ways to cut expenses. Consider selling unused items as you build your emergency fund, too.
Saving an emergency fund gives you a cushion in case something happens to your business or at home. For more details about how much you should save, talk to your financial advisor or accountant.