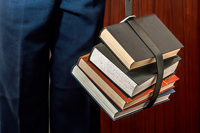 Employee retention boosts your business's revenue, productivity and morale. One way you can retain employees is by offering a tuition reimbursement program that allows your team members to finish their degrees or learn new skills. Discover more about tuition reimbursement programs as you decide whether or not to include this valuable addition in your employee benefit package.
What Types of Tuition Reimbursement Programs are Available?
There are multiple tuition reimbursement programs, but they all fall into two basic types: prepaid and traditional.
The prepaid method requires you to pay the school for courses your employees take. Because payment is due before the class is finished, you could potentially lose money if your employee quits or fails the class.
The traditional method allows you to create guidelines your enrolled employees must follow. Those guidelines may require employees to earn passing grades and complete courses within a certain time frame. Employees pay for the classes out of their pocket and sign a written agreement stating that they will comply with the requirements before you reimburse them for the classes they take.
How to Establish a Tuition Reimbursement Program
Before you announce your intentions to start a tuition reimbursement program, outline the rules so your employees can understand the program and their obligations.
Determine any employee qualifications for the program
Indicate how long a person must be employed before they become eligible for tuition reimbursement
Specify the amount of time an employee must remain with your company after they earn a degree
Decide if employees can attend online or campus-based schools and whether they can go full-time or part-time
Outline expected grade requirements
Note the documentation required to show program requirement completion
Create a monitoring system that verifies that employees meet program requirements
The Benefits of Tuition Reimbursement Programs
If you decide to offer tuition reimbursement, make sure it's beneficial for you and employees. Ideally, you should gain more knowledgeable and skilled employees, and the employees should receive a free education that enables them to be more productive and earn more money.

The Tax Advantages of Tuition Reimbursement
Tuition reimbursement programs can provide you with a tax break. To be eligible, meet one of two IRS methods.
Submit a formal plan in writing. It defines employee eligibility, includes a financial cap on your participation (normally $5,250) and is free from all forms of discrimination.
Implement a working condition fringe benefit. No written plan is required, you don't have to cap benefits and you can pick and choose employees to participate in the program.
A tuition reimbursement program can help you attract and retain quality employees. Consider implementing one for your company. For more details, talk with your accountant or financial advisor.