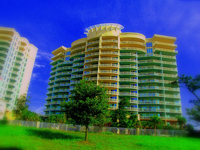 Your condo is your home, and it's one of your most valuable possessions. Protect it with condo insurance. Here are the basics you need to know as you protect your investment.
Check Lender Requirements
Unless you pay for your condo with cash, plan on purchasing condo insurance. Most mortgage lenders require condo buyers to show proof of condo unit insurance before the loan is approved. Discuss insurance requirements with the lender, and then talk to your insurance agent.

Consider the Price
The cost of your condo insurance depends on the deductible and amount of coverage. Remember that increasing your deductible and reducing coverage can lower your premiums. However, weigh the benefits of adequate protection versus saving money as you decide what condo insurance to buy.
Understand the Master Policy
Condo associations generally take out a master policy that covers the building and common areas. This policy typically will provide one of three coverage options:
The basic building including roof, exterior walls, hallways, basement and elevators but not interior walls, carpeting, cabinets, appliances or wall coverings
The basic building and unit items excluding alterations, improvements or additions you make to your unit at your expense
The basic building and unit items, including alterations, improvements and additions you make
Be sure to review the condo association's bylaws and insurance documents to ensure you are in compliance with the requirements and purchase adequate protection for your home.

What Your Unit Policy Will Cover
Even though your condo association may have a master policy in place, you still need individual insurance. It covers items that are excluded from the master policy and may compensate you for claims that may not be covered by the master policy's deductible.
The condo insurance policy you purchase should cover three specific areas. Check your policy for details.
Personal Property: Insure the possessions you own in case they are stolen, vandalized or damaged in your home or elsewhere. Those items include furniture, electronics, clothing and other household items. Your unit policy can include replacement value or actual cash value coverage.
Loss of Use: Your insurance policy will pay a portion of your hotel, meal, laundry and other living expenses if you have to move temporarily because your home becomes uninhabitable due to fire, mold or another cause.
Personal Liability: If someone visits you and suffers a physical injury or if you or a family members damage someone else's property, your personal liability coverage will pay for the damages. The policy could also cover court, defense and settlement costs.
Condo insurance is a valuable investment that protects you and your home. Consider you options when you talk to your agent today.