Most people who drive passengers for a living do so as independent workers. You look at a taxi company and you might assume that those guys are pulling in an hourly wage from the company itself. In truth, a taxi company usually functions more like a rental agency with the drivers actually leasing the vehicles they drive. A cabbie typically spends the first half of the shift making enough to pay off the rental costs, insurance and associated fees, and then the second half of the shift earning money for themselves.
There's very good money to be found in delivering passengers to their destinations, but there's a reason why most people who do it do it full time, or at least regularly enough to be worth the cost. If you're only going to pick up a passenger now and then, then there's no reason to get involved with Lyft or Uber or to become a taxi driver. You can make gas money for a road trip by soliciting people on Craigslist to pitch in if they're going the same way. If you want to drive in a professional capacity, you need to consider the costs that go into that, and whether or not you're willing to work hard enough to cover them and turn a significant profit.
Insurance Costs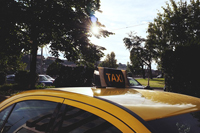 If you're delivering passengers, your normal car insurance policy won't cover you, and you're going to need to look into uber driver insurance. Some providers won't even cover Uber drivers simply because there are so many variables when driving passengers where they need to go. If you're leasing a cab from a company, the company will provide insurance, but depending on how your state's DMV regulates the industry, you may or may not wind up needing to buy taxi driver insurance for yourself through the company's taxi cab insurance provider, much like with a rental car.
Rental Fees
Most cab companies do not use a flat fee, but a percentage. This is typically around one third of the taxi driver's fares for the shift. If you only make, say, $120 for the shift, it can be tough watching that turn to $80 once you drive back onto the lot. A talented cabbie can make hundreds of dollars in a single night, however, and the company does not get a percentage of your tips.
Fuel
Whether driving a cab or picking up Uber passengers, you're going to burn through a lot more gas than you would otherwise. A typical ten mile cab ride might cost $30, your cut being $20, and the average fuel efficiency for a 2016 model car being around 30 mpg, so we're looking at maybe $4 to $6 for every $60 you earn. So around 10% of your take-home pay before taxes.
Driving for a living can be fun and rewarding, but it's difficult to make a worthwhile profit as a part-timer.