Every business needs to insure the vehicles it uses. Because such coverage is usually more expensive than Personal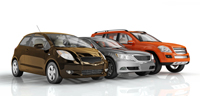 Auto insurance, it makes sense to purchase a Commercial Auto policy that provides the best long-term value for your premium dollar. To make sure that you're getting the right policy at the right price follow these guidelines:
Determine which vehicles you need to insure. In addition to coverage on any vehicle your firm owns, leases, or rents, be sure to cover any personal vehicles that employees will be using on company business.
Select the right type of policy. Although Personal Auto insurance will cover a vehicle used for business purpose as long as the title is in your name, if the company owns the vehicle you'll need Commercial Auto coverage (which is more expensive).
Choose the coverages you need. These should include Liability, Comprehensive, Collision, Uninsured/Underinsured Motorist and (in some states) Personal Injury Protection, which pays medical expenses for the insured driver, regardless of fault.
Comparison shop. Because every Auto insurance company has its own way to calculate premiums, your cost, the amount that you will need to pay can vary widely from one carrier to another. As independent insurance agents, we'll be happy to offer our professional advice on selecting the coverage and price that's best suited to your needs.
Just give us a call.