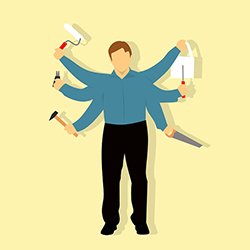 Inclement weather, high winds and cold temperatures can wreak havoc on your business property and disrupt operations during the winter months.
Take time this month to perform a few maintenance checks that protect your property for the remainder of the winter season.
Roof
Exposure to high winds and heavy snow can damage your roof and cause leaks over time. Ice dams may also form as snow and water melt and refreeze. Carefully remove any snow deposits, then inspect the roof and make needed repairs.
Heating System
Your building's heating system may seem to work fine, but perform an inspection to ensure it is indeed operating properly. Check for and repair leaks and clean the filters. Verify that the boiler and radiators also continue to function properly, heat evenly and don't leak as you keep your building warm.
Foundation
Runoff water around your building can erode dirt and damage the foundation. Clear out gutters and downspouts and repair any broken connections to ensure water continues flowing away from your building.
Walls
With temperature fluctuations, your building's walls may be vulnerable to cracks, and any holes can cause expensive leaks and allow critters to crawl into the walls. Walk around the exterior of your building to identify any problem areas, and then schedule necessary repairs.
Water Pipes
Exposed water pipes can quickly freeze or burst as temperatures plummet. While you probably insulated these pipes in the fall, recheck the insulation to ensure it's still attached and functioning properly.
Sprinkler System
Your sprinkler system protects your building from a fire but is vulnerable to cold weather. Double check that the system, including hydrants, tanks and connectors, remain properly insulated and functional.

Exterior Lighting
Winter weather may affect the performance of your exterior lighting and cause bulbs to break or fixtures to crack. Replace any broken light bulbs or fixtures as you promote safety for everyone entering your building.
Sidewalks
Cold weather can cause sidewalks to crack, which affects safety. Seal all cracks as you protect your employees, customers and guests.
Entryway
Snow and ice make entryway stairs or ramps slippery, and the salt or ice melter you apply can damage entryway flooring and carpeting. Replace worn, frayed or damaged absorbent mats in the entryway, if necessary, and continue to monitor surfaces so they remain dry and safe.
Cold temperatures and harsh weather can adversely affect your commercial property. Perform these maintenance steps and update your commercial property insurance this month as you prepare for a successful last half of the winter season.