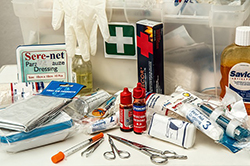 How many times do you walk by fire extinguishers without checking those tags or past first aid kits without peeking inside to assure the contents are complete?
Most executives do not spot check these life saving tools.  That task is delegated to maintenance.  But these decisions are life and death, not simply profit or loss.  Show your employees you care; that you lead their safety program rather than follow pro forma insurance checklists.
Start your spring cleaning here: walk through your operation and stop occasionally to check if you can easily spot the nearest fire extinguisher.  Read the label.  Is it appropriate for the work area?
Stand at each fire extinguisher station and visualize successful deployment.  Is it easy and natural?  Can you travel unharmed to the nearest fire exit using the fire extinguisher to clear a path?
Observe any long pathways between fire extinguishers and exits.  Would another canister or different fire suppression device or system help?
Take some notes as you walk through the operation.  Review these observations with the person tasked to keep the equipment updated.
Repeat the above exercise with regard to first aid kits.  Are they easy to spot?  Easy to access one-handed?  Do they have instructions for calling emergency help?
These exercises do not require a great deal of time or scheduling.  Simply make a point of checking these items every quarter, something of an internal surprise inspection.
Add ten minutes every three months to your walk-through routine.  It doesn't need scheduling or ceremony.  Simply observe, become conscious of the emergency response routine.  Are fire exits clogged with storage or debris?  Are aisles kept unobstructed?
Is a specific person charged with de-icing fire escapes?  As you walk through your operations, take notes of these questions.  Think through an emergency evacuation, then review the written plan for your company.  Does it make common sense?  Does it raise questions for your risk manager or safety specialist?
Does your at-hire training include safety orientation and procedures?  How about on-going communications on safety issues?  Both directions?
Corporate officers lead the safety culture.  Make these inspections in view of employees.  They will engage you if they have proper concerns.  They are a great resource.