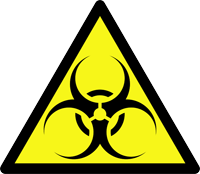 If you work in construction, it's not uncommon to encounter asbestos, lead, and other hazardous materials on a remodeling or deconstruction job. When that does happen, here are the appropriate steps you're going to want to take:
Clear the Area
If you find asbestos in a home, you'll want to clear the area right away. Lead exposure can take years to create any lasting damage in the human body, but even mild exposure to asbestos can be dangerous.
Report
As soon as possible, report your findings to the proper authorities. In more cases than not, this will be the EPA. False alarms do happen, it's not uncommon for some other material to be mistaken for asbestos, but the EPA will typically have some tests conducted in order to determine what it is that you're dealing with. You'll also want to let your client know that anyone who has been living or working in the building has potentially been exposed to the hazardous material.
For Asbestos and Other Hazards: Get a Professional
If you're removing asbestos, you need to be certified, and if you are certified, you still need to report to the proper authorities that you're going to be taking asbestos out of an old home.
If you would like to get certified to remove asbestos in order to prevent any findings from slowing a construction job down too much, you can get started at the EPA website. https://www.epa.gov/asbestos/training
For Lead: Proceed With Caution
You can remove lead on your own in most states with or without certification, but it can be a tricky process. Make sure that anyone involved in the job is wearing a dust mask, goggles and gloves, and be sure to clear the area to ensure that lead dust doesn't get on anything. Sweep and clean the area thoroughly when you're done.
Replace
Asbestos is more troublesome than it's worth, but it is very good at one thing: preventing fire damage. It is nearly impossible to get the stuff to burn. Following the removal of any hazardous building material, you have to take a moment to consider why it was installed in the first place. Lead pipes are easy enough to replace with PVC, while asbestos removal should be followed up with the installation of something to replace it, like fiber-cement siding.
Finally: You'll want to keep an eye on the health of yourself and your crew. The real threat is prolonged exposure, and most remodeling jobs are over and done with by the time the effects of exposure to hazardous materials can really be felt, but as always, it's better to be safe than sorry.