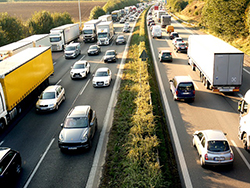 Your construction business requires a reliable vehicle. This spring, perform several maintenance procedures on your truck. Routine maintenance equips your truck to operate properly all season and prolongs the life of your vehicle.
Inflate Tires
Your vehicle's tires, including the spare, must be properly inflated and have adequate tread. Check for wear, buckles or bulges, too, since a compromised tire could easily pop as you drive over rough ground on the way to job sites.
Fill Fluids
Change the oil to ensure your vehicle operates at peak performance this year. Replace or refill the transmission, brake, power steering, and windshield washer fluids also, and purchase extra fluids in case you need to top them off during the year.
Tune the Engine
Inspect the engine, including the battery, powertrain control, and ignition. They must be in good working order so that your vehicle operates efficiently.
Replace Belts and Hoses
Your vehicle's belts and hoses affect various engine parts that are essential for operation. Inspect the belts, hoses and clamps for wear, and replace them if necessary.
Boost the Brakes
Inspect the brake system and replace the linings, rotors or drums if they're damaged or worn. Remember to also change the brake fluid.
Inspect the Suspension

Your vehicle's shocks and struts improve your ride, so inspect the suspension. Replace noticeably worn parts.
Improve the Lights

Improve visibility when you buff scratches from the headlights and taillights. Replace any broken lights or fuses also.
Charge the Air Conditioner
Charge the A/C so your vehicle remains cool as you drive to and from job sites. If you notice leaks or damage, schedule a repair.
Replace Wiper Blades
Replace worn, cracked or broken wiper blades. They improve your visibility during all weather conditions.

Detail the Interior and Exterior
Wash the entire exterior of your vehicle, including the undercarriage, to remove winter ice and grime. You can also wax your truck to protect its finish, and touch up any scratches that could turn into rust or affect your brand image. Clean trash out of the interior also and wipe the surfaces as you create a tidy vehicle.

Stock Supplies
Check your tool box and first aid kit, and replace any broken or missing items. Additionally, stock invoices, mileage reports and business cards so you're prepared to manage and share your business.

Purchase Adequate Insurance
Double check that your commercial auto insurance policy includes adequate coverage. It should include liability, medical, uninsured and underinsured, comprehensive, and collision coverage with adequate limits to protect your assets.
In addition to these spring maintenance tips, schedule regular maintenance throughout the summer season. Proper care protects your truck and your construction business all summer.